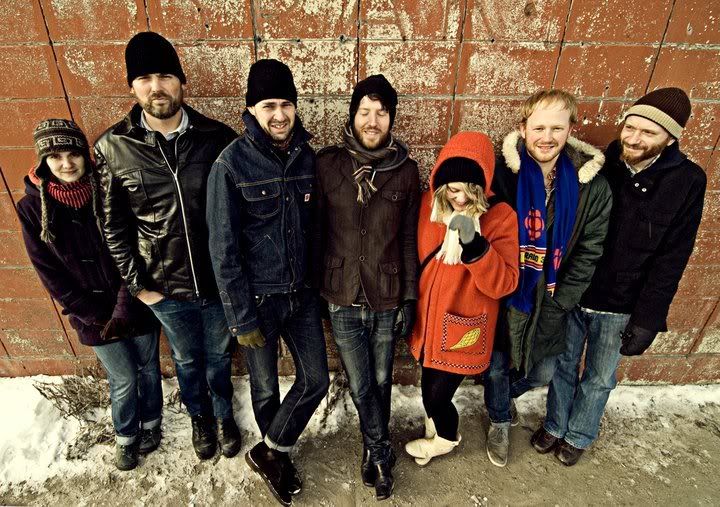 After a busy year supporting the album Walk Into The Sea, Slow Down, Molasses returns with a new ep filled with re-interpretations of tracks off that album. Bodies of Water: Remixes, features remixes and reinterpretations of the songs Bodies, Late Night Radio, Light, and Walk Into The Sea by Factor, Foam Lake, Message to Bears, Mehta, Form, Light Fires, Economics, and Sebastian Reynolds. The ep is being released digitally on February 21st via http://slowdownmolasses.bandcamp.com and is free to download.
The band recently released a new, Andrei Feheregahazi created, animated video for the song "Bodies", which premiered on the NME website and will soon be annoucing a series of shows across the United Kingdom centered around an apperance at The Great Escape Festival. The video can be viewed here.
Slow Down, Molasses are a sprawling indie rock collective from Saskatoon, SK. The band brings together a cast of 6 (and sometimes more…) members to create their own unique wall-of-sound. Songs that began as sparse, dust-covered arrangements have developed into full-fledged, lush indie-folk anthems filled with strings, horns and layers of feedback drenched guitars and sweet vocal harmonies. With so many members on stage, the band doesn't hesitate to incorporate new and sometimes unconventional instrumentation; from toy pianos to typewriters, you never know what you will find on stage.
The band's latest album, Walk Into The Sea, features guest appearances by "Canada's indie queen" (cbcradio3.com) Julie Doiron and was mixed by Ohbijou's James Bunton. Since the release of the album, Slow Down, Molasses has toured clear across Canada from Halifax to Vancouver. The tour and the album have been met with great critical acclaim, with the band being called "…one of the next great Canadian bands" (slowcoustic.com). Summer 2011 saw the band play major festivals across Canada including North by North East, Sled Island, and the Regina Folk Festival, before heading across the ocean to play England's End of the Road Festival alongside indie heavyweights Mogwai, Okkervil River and Joanna Newsom.
Links: