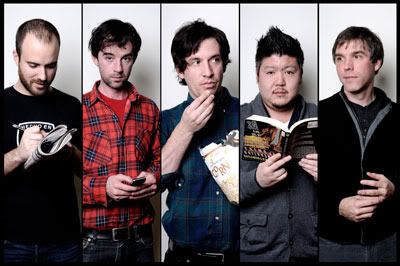 Toronto based songwriter's 4th album co-produced by Jim Guthrie and mixed by Howie Beck to be released by Saved By Radio on March 6. Marc Morrissette and the band hit the highway for 18 dates coast to coast starting March 22.
On the surface Octoberman's 4th album Waiting In The Well is about waiting.

Co-produced by Jim Guthrie (Royal City, Islands, Human Highway) and mixed by Howie Beck (Feist, Hayden, Jason Collett), Waiting In The Well showcases a more focused and poppier side of Octoberman's brand of folk-rock heard on previous releases These Trails Are Old and New (2006), Run From Safety (2007), and Fortresses (2009). The title Waiting In The Well was inspired by popular Japanese author Haruki Murakami's book The Wind-Up Bird Chronicle and finds Marc Morrissette following the book's lead character down a metaphorical well in search of something deeper. While making Waiting Morrissette discovered that the wear and tear of touring had given him a vocal polyp that required intervention. The resulting surgery left him silent for two weeks and prohibited from singing for five months, forcing the singer to step back, listen and... Wait.
Upon completion of Fortresses, Morrissette moved from Vancouver to Toronto, and recruited a new rhythm section in Marshall Bureau (drums) and Tavo Diez de Bonilla (bass). After a month-long European tour where the song arrangements fleshed themselves out, Octoberman went to London, Ontario's House Of Miracles with Producer / Engineer Andy Magoffin (Constantines, Great Lake Swimmers, Cuff The Duke) to record Waiting. The polyp became a blessing in disguise as it allowed time for co-producer Jim Guthrie to add his magic to the project. The downtime was also used to accumulate contributions from regular Octoberman members Shaun Brodie (trumpet) and Randy Lee (violin) plus a gang of Toronto friends including FemBots' Dave MacKinnon (piano), Wilderness of Manitoba's Melissa Dalton (vocals), Muskox's Jeremy Strachan (saxophone), Cuff The Duke's Francois Turenne (guitar), and Two-Minute Miracles' Justin Nace (pedal steel).

After earning critical praise from the likes of Pitchfork, Uncut and Americana UK (Album of 2007), being featured prominently on Grey's Anatomy (2010), appearing at the SXSW, Pop Montreal, Sled Island and CMJ festivals, and extensive touring of North America and Europe, Waiting in The Well finds Octoberman set to build on the foundation their previous work has laid. Throughout the album is the permeation of a voice deeply connected with its subject, weary and worn and willing to dive below the surface to understand it's root. Yes, on the surface the album is about waiting, but a careful listen to the songs reveals something deeper lurking in the well. The result is Octoberman's strongest and most personal album to date.

To whet the appetite before the album's release, an ep's worth of bonus material was released last October as The Sweater EP.
Octoberman Tour Dates
March 22 – Thunder Bay, ON @ The Apollo*
March 23 – Winnipeg, MB @ Lo Pub
March 24 – Saskatoon, SK @ Vangelis*
March 26 – Edmonton, AB @ Wunderbar (w/ Doug Hoyer)
March 28 – Calgary, AB @ Broken City (w/ Extra Happy Ghost)
March 29 – Nelson, BC @ tba
March 30 – Mission, BC @ House Party
March 31 – Vancouver, BC @ Waldorf Hotel (w/ The Abramson Singers, EARLY SHOW, 10PM Curfew)*
April 2 – Lethbridge, AB @ The Slice*
April 3 – Bruno, SK @ Bruno Arts Bank*
April 5 – Sudbury, ON @ Fromagerie Elgin*
April 13 – Toronto, ON @ Tranzac Main Hall (w/ Del Bel)
April 14 – Ottawa, ON @ Raw Sugar (w/ Winchester Warm)*
April 15 – Montreal, QC @ L'Escogriffe (w/ CTZNSHP)*
April 17 – Wolfville, NS @ Studio Z (w/ Jon Mckiel)*
April 19 – Halifax, NS @ Gus' Pub (w/ Seamus Erskine)*
April 20 – Charlottetown, PEI @ Baba's (w/ Milks and Rectangles)*
April 21 – Fredericton, NB @ The Capitol