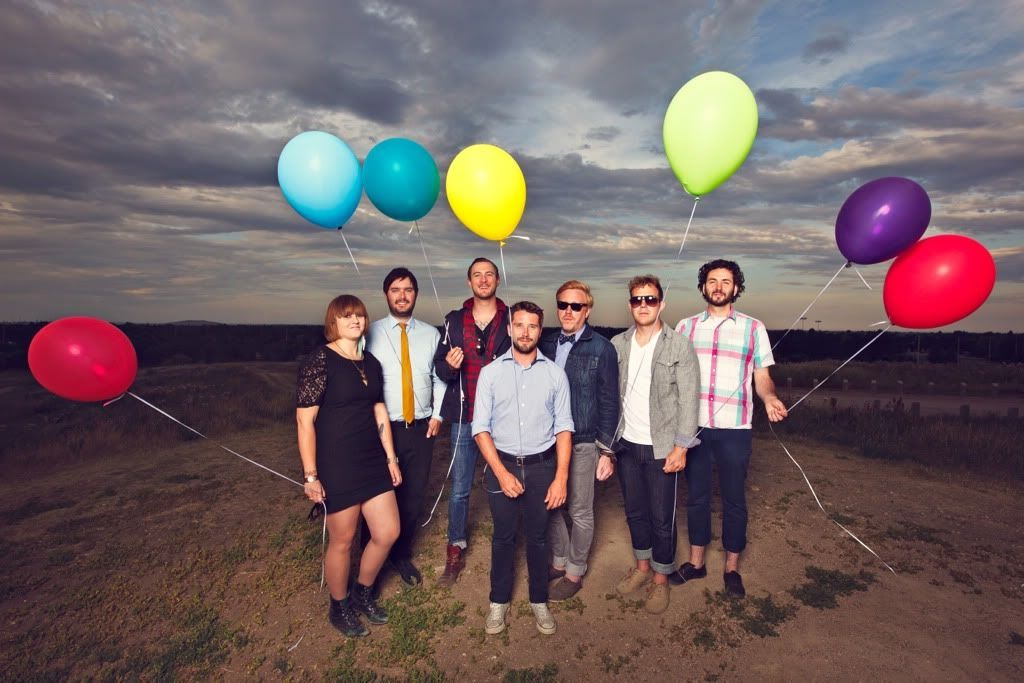 Library Voices, the perpetually recording and touring septet, are loading up their van again to cross Canada and the U.S. -including a stop at SxSW this spring. The tour begins March 8 in Fargo, ND. On March 24, Library Voices connect with label mates and friends, Yukon Blonde in Winnipeg and the acts continue to travel together until April 27, when they share the stage at Vancouver's Commodore Ballroom. All dates are in the continued support of their critically revered sophomore album, Summer Of Lust released in August 2011.
Today, Library Voices offer for download, a Teen Daze remix of Traveller's Digest from Summer Of Lust.
The band said this about the remix:
"Our Saskatchewan roots continue to haunt us. This time around we present to you a remix of Traveller's Digest by ex-Reginian Teen Daze from our album Summer of Lust, which was produced by ex-Reginian Jace Lasek. Admittedly the whole indie-rock remix thing has been done to death, but Teen Daze's ability to deconstruct and completely re-imagine the material he sources leaves him in a league of his own. Over the past couple of years he's turned out a number of our favorite remixes by a number of our favorite artists including Braids, Yeasayer, Washed Out, and Tycho.
If you were looking for someone to just drop a shitty 808 beat and add to our already teetering pop cheesiness you may want to check out that sad sack, Owl City instead."
Further summer festival stops and a new radio single from Summer Of Lust will be announced soon.
LIBRARY VOICES / UPCOMING LIVE DATES / 2012
March 8 – Fargo, ND – Aquarium
March 9 – Sioux Falls, SD – Latitude 44
March 11 – St Louis, MO – Firebird (w/Margot & The Nuclear So-and-So)
March 13 – Dallas, TX – Ridglea Bar (w/Young Empires)
March 15 – Austin, TX – SxSW

Canada House
March 16 – Austin, TX – SxSW TBA
March 17 – Austin, TX – SxSW Sea Now! Day Party
March 18 – San Antonio, TX – The Big Spill Festival
March 20 – Kansas City,

– Czar Bar
March 24 – Winnipeg, MB – WECC*
March 26 – Minneapolis, MN – Triple Rock*
March 27 – Chicago, IL – Beat Kitchen*
March 28 – London, ON – Call The Office*
March 29 – Guelph, ON – The Vinyl*
March 30 – Montreal, PQ – Casa Del Popolo*
March 31 – Kingston, ON – The Grad Club*
April 2 – Quebec City, PQ – Le Cercle*
April 4 – Charlottetown, PEI – Hunters Ale House*
April 5 – Fredericton, NB – The Capitol*
April 6 – St John's, NFLD – The Rock House*
April 7 – Halifax, NS – Reflections*
April 10 – New York, NYC –Pianos*
April 11 –Philadelphia, PA – Kung Fu Necktie*
April 12 – Toronto, ON – Lee's Palace*
April 13 – Toronto, ON – Lee's Palace*
April 14 – Ottawa, ON – Ritual*
April 16 – Sudbury, ON – The Townehouse*
April 18 – Thunder Bay, ON – Crocks*
April 20 – Regina, SK – U of R Multipurpose Room*
April 21 – Calgary, AB – Palomino*
April 26 – Victoria, BC –9ONE9*
April 27 – Vancouver, BC – The Commodore*
* supporting Yukon Blonde