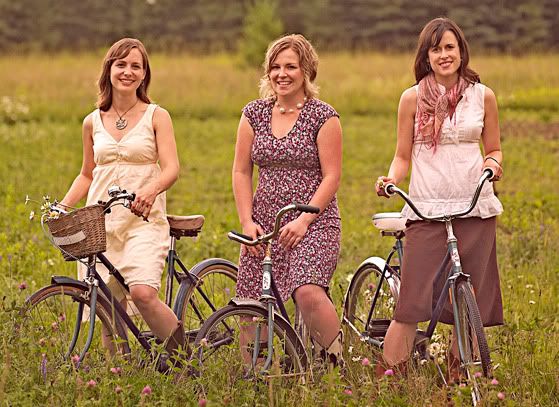 GOOD LOVELIES
RECEIVE JUNO NOMINATION FOR
LET THE RAIN FALL
JUNO NOD FOR ROOTS & TRADITIONAL
ALBUM OF THE YEAR: GROUP
TOUR DATES ANNOUNCED FOR MARCH
It is clear that the Good Lovelies have added another special album to their discography. Their charming 2011 release, Let The Rain Fall, perked up the ears of fans and critics alike, and earned them a Canadian Folk Music Award for Vocal Group of the Year in December of last year. Proving once again that they are a force to be reckoned with in the Canadian music scene, the Lovelies have been nominated for the Juno Award for Roots & Traditional Album of the Year: Group, for Let The Rain Fall. With barely enough time to process this exciting news, the girls will be back on the old highway in March for Canadian dates in British Columbia, Alberta, and Saskatchewan (dates listed below).
This is the second time the girls have been recognized in this Juno category, with their debut full-length album, Good Lovelies, picking up the Roots & Traditional Album of the Year: Group Award in 2010. Let The Rain Fall is the third full-length offering from vocalists and multi-instrumentalists Caroline Brooks, Kerri Ough and Sue Passmore. It is an ode to camraderie, with equal parts city and country, highway and home, wistfulness and sass. With the release of the album, the girls hit the road, touring nearly constantly through 2011. They trekked back and forth across their home country, and headed into international territory, visiting Australia, the UK, Europe, and the US. After making a quick pit-stop at home, the girls will be back on the road in March, doing what they do best – performing.
Their breath-taking three-part harmonies, constant instrument swapping, and witty on-stage banter have made them an honest and endearing voice in the Canadian music scene. They have become fixtures on the summer festival circuit with spots on the Mariposa and Hillside Festivals, Montreal Jazz Festival, and a number of others across North America. They have also toured with Stuart McLean and the Vinyl Café, and have shared the stage with the likes of Broken Social Scene, Kathleen Edwards, and Jill Barber.
Don't miss your chance to catch the Good Lovelies on the road this March!
Mar 2 - Coquitlam, BC - Evergreen Cultural Centre - Studio Theatre *
Mar 3 - Maple Ridge, BC - Maple Ridge Theatre *
Mar 4 - Maderia Park, BC - Pender Harbour Music School
Mar 6 - Powell River, BC - Max Cameron Theatre *
Mar 8 - Campbell River, BC - The Tidemark Theatre *
Mar 9 - Nanaimo, BC - The Port Theatre *
Mar 10 - Surrey, BC - Surrey Arts Centre *
Mar 11 - Kelowna, BC - Rotary Centre For The Arts
Mar 12 - Creston, BC - Prince Charles Theatre *
Mar 14 - Penticton, BC - Dream Cafe
Mar 16 - Hinton, AB - The Guild
Mar 17 - Cochrane, AB - Cochrane Alliance Church
Mar 18 - Rosebud, AB - Rosebud Folk Club (afternoon show)
Mar 19 - Watrous, SK - Watrous Civic Centre
Mar 20 - Saskatoon, SK - The Bassment
Mar 21 - Bengough, SK - Bengough Community Centre
Mar 22 - Assiniboia, SK - Prince Of Wales Cultural & Recreation Centre