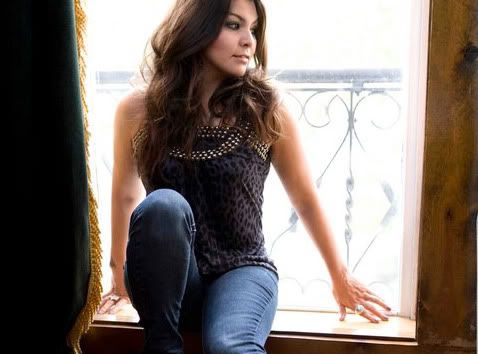 FIRST SINGLE CLOSER CLIMBS
THE COUNTRY CHARTS
New Sun Records is proud to announce the release of Crystal Shawanda's new album, Just Like You.

Out April 17th, Just Like You, is the follow up album to 2009's Top 20 charting album, Dawn Of A New Day.

Juno nominated and winner of the Best New Country Artist at the 2009 Canadian Radio Awards, Crystal's new album is provokingly powerful, showcasing her lush, rich voice that has earned her numerous accolades in the country and aboriginal music communities.

Crystal kicked off the album with the release of her first single, Closer, that is currently storming up the country radio charts.

Have a listen to Closer – click here.

"Closer has an infectious groove, melody and warm positive message that I just couldn't resist.

Who can't relate to fallng in love", reflects Crystal about the single.

Listen for Crystal next week when she hits the road for a full radio promo tour in Ontario.

Take a peek at Crystal in the studio making this record here.

For full tracklisting please see below.
Crystal Shawanda's country roots run deep. Born Native American, she was automatically joined to the land and the real stories of everyday people. To Native Americans, music is everything. It's their history, their dance, and used to remember and to forget. It's a way to celebrate life and mourn death.
Crystal was born on the Wikwemikong Native Reservation on Canada's Manitoulin Island in Ontario. She grew up immersed in all styles of music, especially country, being the youngest of three siblings; music has always been a part of who Crystal is. At 12, she accompanied her truck-driver father on a long haul to the southern United States, and visited Nashville for the first time. At 13, she recorded her first album in Nashville, all of which were songs that she wrote. Over the next several years she recorded 3 more independent albums, traveled back and forth to Nashville, honed her craft, and finally got a full-time gig at the famous Tootsie's Orchid Lounge on Nashville's world famous Broadway. There, she met her husband and lead guitarist, Dewayne Strobel, where they shared the stage for six years.
While working at Tootsie's, Crystal began to work with producer Scott Hendricks (Faith Hill, Brooks and Dunn) and it was then that Nashville music-business legend Joe Galante signed Crystal to RCA Records/ Sony Music Nashville in 2007. Crystal's first single, "You Can Let Go", was the fastest rising single in Canadian BDS History and reached top 5 in Canada and top 20 in the US. Her debut album "Dawn of a New Day" was released in 2008, was Billboard's highest charting album by a Native American in history, and sold over 400,000 copies. A CMT six-part documentary also aired in Canada called "Crystal: Living the Dream", giving fans an inside look at Crystal's life in Nashville.
In 2009, after five hit singles in Canada including the title track, "Try", and "My Roots are Showing", and a massive tour with Brad Paisley and Dierks Bentley, Crystal was named the Canadian Country Music Association's Female Artist of the Year, deservingly.
In 2010, Crystal and her husband Dewayne launched their record label New Sun Records.

Her album, Just Like You, is the label's inaugural release.
Canadian Tour Dates:
Apr 21 – Sherwood Park, AB – Festival Place
Apr 22 – Whitecourt, AB – Eagle River Casino
Apr 24 – Grande Prairie, AB – Dukes
Apr 26 – Langley, BC – Cascades Casino
Apr 27 – Cowichan, BC – Duncan Theatre
Apr 28 – Port Alberni, BC – Capitol Theatre
May 2 – Medicine Hat, BC – Ralph's Texas Bar
May 3 – Red Deer, AB – Cowboys
May 5 – Brandon, MB – North 40
May 8 – Hamilton, ON – Hec Fi
*more tour dates to be announced soon!
Closer

Someone Who Loves You

Beautiful Day

Chains

Love Enough

Slipping Away

Down On Broadway

Burning This Love Down

Fight For Me

The Chance You Take

My Baby Makes My Day

This Fever

Just Like You

Helpless

After I'm Gone