Carly Maicher has made "See You Soon," from her acclaimed album Hiding, available as a free download. She has also announced three month of tour dates across Canada that start this March. Dates are listed below.
It was a mere three years ago that Carly Maicher decided she wanted to explore the depths of loneliness and escape her familiar surroundings of WInnipeg, MB.
"There was something really intriguing to me about loneliness that I wanted to study" says Maicher. "I had a deep rooted connection to this tiny island in New Brunswick called Grand Manan - where my Grandparents grew up. My mother had purchased a summer home on the island which wasn't often used - so I decided to take advantage of this." Originally she had planned to simply vacation on the island for a couple months during the summer and to record a homemade record- but plans quickly changed. Weeks turned into months, and months to years.
Carly Maicher - See You Soon by Pigeon Row
Besides living out her day dream of escaping her prairie home - Maicher quickly found ways to occupy her time on Grand Manan - between managing a restaurant and fostering her creative nature - time seemed to pass quickly. Fast forward three and a half years - January 2011 - Maicher finally set out to make the record that she went to Grand Manan to make. She acquired the help of good friends Zachary Lucky and Sean Craib Petkau, rented the needed equipment and set forth.
"Want I wanted (for recording), was for it to happen in the environment where I wrote the songs - right in my own home. I wanted it to sound homemade," says Maicher. When asked about her inspiration for Hiding, Maicher stated, "The three and a half years I spent on (Grand Manan) shaped a lot of the reasons why Hiding came to be."
Hiding - the debut recording from Carly Maicher is an 11 song effort - featuring Maicher on vocals, and acoustic and electric guitar - as well as banjo and guitar accompaniment from Zachary Lucky - and when you listen to the songs it's as if Maicher is performing them for you in your living room. You can hear the character of the ocean side home where the songs were recorded - and the honesty in her voice.
Hiding is painfully beautiful and delicate release. It speaks of the hardships of leaving what you've always know - and exploring the pain and beauty of being alone - lost at sea.
Carely Maicher
- Hiding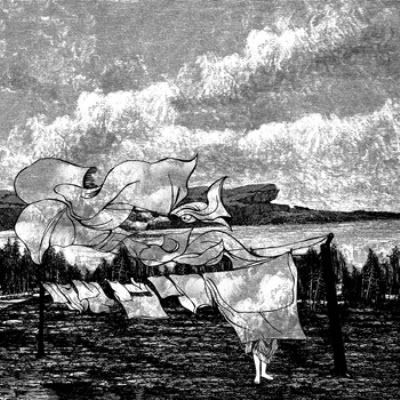 Upcoming tour dates:
March 2nd - Saskatoon, SK - CD Release - Christ Church Anglican
March 8th - Regina, SK - Creative City Center
March 9th - Winnipeg, MB - Lo Pub
March 10th - Kenora, ON - TBA
March 11th - Thunder Bay, ON - The Apollo
March 12th - Thessalon, ON - The Auld Kirk
March 13th - Peterborough, ON - The Spill
March 14th - Windsor, ON - The Phog Lounge
March 15th - Sarnia, ON - Paddy Flaherty's
March 16th - London, ON - The Blackshire Pub
March 18th - Waterloo, ON - Princess Cafe
March 20th - Hamilton, ON - House Concert
March 21st - St. Catharines, ON - TBA
March 22nd - Toronto, ON (Canadian Music Week)
March 23rd - Toronto, ON (Canadian Music Week)
March 24th - Toronto, ON (Canadian Music Week)
March 28th - Montreal, QC - Le Cagibi
March 30th - Woodstock, ON - Fusion Cafe
April 1st - Charlottetown, PEI - Baba's
April 2nd - Moncton, NB - Plan B Lounge
April 3rd - Cornerbrook, NL - White Horse Lounge
April 4th - St John's, NL - Distortion
April 5th - St John's, NL - TBA
April 7th - Stephanville, NL - Clancy's
April 11th - Halifax, NS - The Company House
April 12th - Sackville, NB - House Concert
April 13th - St. Andrews, NB - The Red Herring Pub
April 14th - Grand Manan, NB - Covert Hall
April 18th - Quebec City, QC - L'AgiteE
April 19th - Ottawa, ON - The Elmdale Tavern
April 20th - Gatineau, QC - House Concert
April 21st - North Bay, ON - Opera Bakery Cafe
April 22nd - Sudbury, ON - TBA
April 24th - Thunder Bay, ON - House Concert
April 26th - Brandon, MB - Lady of the Lake
April 27th - Yorkton, SK - Fifth Avenue Cup and Saucer
May 3rd - Edmonton, AB - Wunderbar
May 4th - Prince George, BC - Nancy O's
May 5th - Kelowna, BC - Streaming Cafe
May 6th - Vancouver, BC - River VIntage - Sake of the Song
May 8th - Gabriola Island, BC - Raspberry's Jazz Cafe
May 9th - Tofino, BC - Darwin's Cafe
May 10th - Comox, BC - Joe's Garage
May 12th - Mission, BC - House Concert
May 15th - Kaslo, BC - Kaslo Hotel
May 16th - Twin Butte, AB - The General Store
May 21st - Calgary, AB - The Iron Wood
May 23rd - Lethbridge, AB - The Slice
May 24th - Medicine Hat, AB - Inspire Cafe
May 25th - Forget, SK - The Happy Nun
May 26th - Prince Albert, SK - Fish and Game League