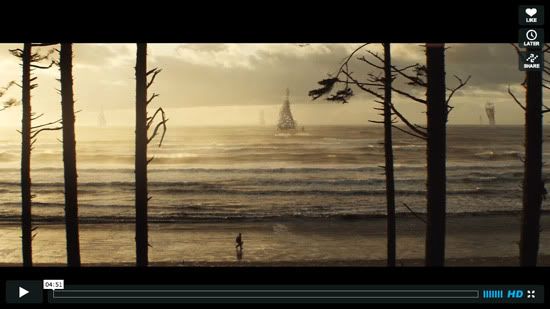 Nabil Elderkin, the filmmaker responsible for Bon Iver's epic "Holocene" video, directed the third video for Bon Iver, Bon Iver. Today "Towers" premiered at Vimeo:
When Justin sent me a breakdown of what certain parts/lines of the song meant to him I did my best to decode it and curate into something simple, and hopefully the viewer can take from it their own feeling of what the towers represent. It was shot up in Washington state, mostly on Indian-preserved land, and our actor's name was Mystic. He seemed to be very tuned into the land, and when he said he was also willing to fall into the freezing cold ocean up there (seems a bit sharky too), I knew he was my guy.
A "Towers" 12" and digital single will be out on March 6th with John Prine cover "Bruised Orange (Chain of Sorrow)" as the b-side. The cover was originally recorded for the John Prine tribute album Broken Hearts and Dirty Windows. The 12" is now up for pre-order at SC Distribution.
Bon Iver is currently down under, but they'll be back in North America this spring with dates around their Coachella performances as well as a concert at the famed Red Rocks Ampitheatre with Feist. Tour dates, including the first-ever date in Calgary, are below!
Grammy Winner - Best Alternative Album
Grammy Winner - Best New Artist
Best Album of 2011 - Q Magazine
Best Album of 2011 - Pitchfork Media
Best Album of 2011 - Exclaim!
Best Album of 2011 - Paste Magazine
Album of the Year - Stereogum Gummy Awards
03/03/12 Perth, AU - Perth International Arts Festival @ Red Hill Auditorium
03/06/12 Adelaide, AU - Thebarton Theatre
03/08/12 Melbourne, AU - Sidney Myer Music Bowl
03/10/12 Victoria, AU - Golden Plains Sixxx @ Meredith Supernatural Ampitheatre
03/11/12 Sydney, AU - Sydney Opera House
03/12/12 Sydney, AU - Sydney Opera House
03/13/12 Sydney, Au - Sydney Opera House
03/15/12 Brisbane, AU - Tivoli Theatre - SOLD OUT
03/16/12 Brisbane, AU - Tivoli Theatre - SOLD OUT
03/17/12 Brisbane, AU - Tivoli Theatre - SOLD OUT
04/12/12 Las Vegas, NV - The Joint at Hard Rock Hotel Las Vegas w/All Tiny Creatures
04/14/12 Indio, CA - Coachella Festival
04/17/12 Davis, CA - Freedom Hall at UC Davis w/All Tiny Creatures SOLD OUT
04/19/12 San Francisco, CA - Bill Graham Civic Auditorium w/All Tiny Creatures
04/21/12 Indio, CA - Coachella Festival
04/22/12 Santa Barbara, CA - Santa Barbara Bowl SOLD OUT
04/23/12 Tucson, AZ - TCC Arena w/Feist
04/27/12 New Orleans, LA - New Orleans Jazz and Heritage Festival
05/21/12 Edmonton, AB - Northern Alberta Jubilee
05/22/12 Calgary, AB - MacEwan Hall
05/25/12 Burnaby, BC - Deer Lake Park
05/27/12 George, WA - Sasquatch Music Festival
05/29/12 Salt Lake City, UT - Red Butte Garden Ampitheater
05/31/12 Morrison, CO - Red Rocks Ampitheatre w/Feist
06/07-10/12 Manchester, TN - Bonnaroo Music Festival
07/07/12 Roskilde, DK - Roskilde Festival
08/08/12 Helsinki, FI - Flow Festival
08/10/12 Goteborg, SE - Way Out West Festival
08/11/12 Oslo, NO - Oya Festival
Bon Iver on Facebook