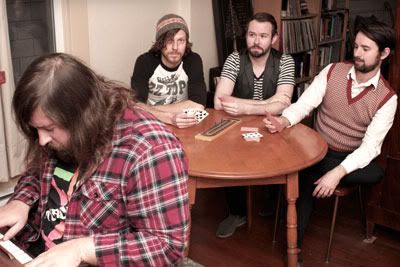 Bend Sinister Announce The March 6th Release Of On My Mind EP
Bend Sinister seem to almost revel in their ability to confound listeners and industry types throughout Canada. They churn out blisteringly fast prog influenced songs, followed by chirpy and cheerful Beach Boys soaked melodies. They are the kind of musicians who have both Hall and Oates and Iron Maiden in their vinyl collections and are not afraid to admit any influence or try any new sound.
At the heart of Bend Sinister sits vocalist and keyboard player Dan Moxon. His soft spoken and warm demeanour belie the frenetic stage antics and vocal gymnastics that have made him one of the most unforgettable front men in the Canadian indie scene. His song writing draws from a wealth of influences and he is as equally at home softly singing over a piano ballad as he is wailing over crushing drums and guitars. Not to be outshined however, the rest of the band is just as dynamic. If Moxon is the heart, drummer Jason Dana is the gut. Channelling the best beats of Thin Lizzy and Led Zeppelin, Dana propels the band through their live set like a twin-engine jet. At the flanks are guitar wizard Joseph Blood and newcomer, bassist Matt Rhode.
For the last three years, Bend Sinister have been a tornado of activity on the Canadian music scene. Since 2008 they have released two EP's and one full length album. Their most recent single, "Things Will Get Better" (produced by Howard Redekopp), was added to commercial radio stations across Canada and reached number 2 on the CBC radio 3 chart. They have been invited to perform at a plethora of festivals across Canada, including: Envol at Macadam in Quebec City, POP Montreal, Sled Island in Calgary, Olio Festival in Vancouver and Live at Squamish; moreover, Bend Sinister have acted as tour support for such bands as METRIC, Hot Hot Heat, Dragonette, Born Ruffians, Minus the Bear and We are Scientists.
Produced by Shawn Cole (You Say Party!; Yukon Blonde) at Fader Master and Mushroom studios, On My Mind is an EP from a band that clearly knows that their capabilities as players and songwriters are limitless. In the traditional anthemic nature that is Bend Sinister, On My Mind commands listeners to recall a time when songs were crafted and not manufactured. While the track "Give It A Rest" breathes new life into the group's clearly defined sound, the rest of the EP acts as a teaser for more great things to come
Bend Sinister Tour Dates:
MARCH 1st - KELOWNA - The Habitat
MARCH 2nd - OLDS (alberta) - Tracks pub
MARCH 6th - MONTREAL - L'Esco Bar
MARCH 8th - LONDON - Call The Office
MARCH 10th – TORONTO - @ Cherry Cola
MARCH 13th- WINNIPEG - The Pyramid *
MARCH 14th - REGINA - The Exchange *
MARCH 15th - SASKATOON - Amigos *
MARCH 16th - CALGARY - The Gateway *
MARCH 17th - EDMONTON - The Starlite room *
MARCH 18th - BANFF - Wildbills *
MARCH 19th - JASPER - The Horseshoe Club *
MARCH 20th - FERNIE - The Northern *
MARCH 21st - NELSON - The Hume Hotel *
MARCH 22nd- KAMLOOPS - Catus Jacks *
MARCH 23rd - VANCOUVER - Venue *
MARCH 24th - VICTORIA - Club 9one9 *
MARCH 26th - WHISTLER - Garibaldi Lift Company *
http://bendsinisterband.com/