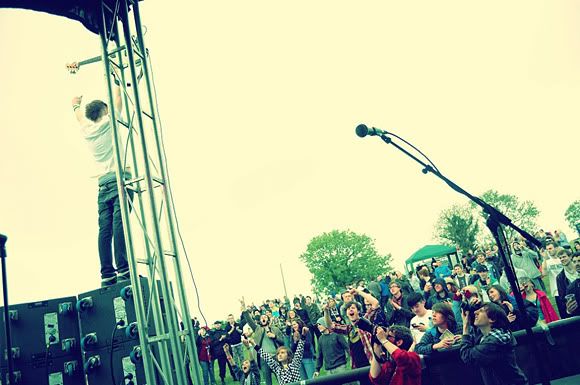 Kasper Rosa
are comprised of J. Ryan McCormick, Steven Butler, Dave Shannon, and James "Tree" Bruce. The same four men who in the winter of 2009, locked themselves in and art college lecture threatre for two weeks and constructed a five track EP. This progressive post-metal band has influences ranging from
Oceansize
and
Mastodon
through to
Opeth
, "
Porcupine Tree
" and
Incubus
.
The bands experimental take on recording material has gained them credible reputation in their native city of Belfast, along with the close relationship between every single member of the KR team. With the help of full time friend and producer, Clark Phillips (Bat Cave Studios) this family of industry misfits is currently laying the foundations for an album project that is due for release in 2012.
Kasper Rosa have been packing gigs and receiving praise from their peers since their inception, so it was no surprise that local promotion company
Strange Victory
invited them to support Seattle favorites, Earth (Sub Pop Records), only a few months free of the creative womb. The boys added quickly to their growing impact on the circuit with a tour alongside English rockers,
Alright Captain
- this particular tour resulted in the signing of their next release "
EP2
" to
Field Records
(
LaFaro, Maybeshewill, You Slut!
and
Public Relations Exercise
) after an impressive performance at the renowed chameleon Art's Cafe in Nottingham.
September 2011 seen the launch of "First Breath, First Blood!" the bands 2nd single. It wasn't hard to find places worthy of debuting this track to an audience, having been invited to play both Glasgowbury Music Festival & Forfey Festival during the summer, alongside a welcomed headline slot at Sunflower Fest.

An anticipated release from the BBC; local music show ATL recorded a live performance of the new single which was broadcasted shortly after its release.

"What taps into the heart of Kasper Rosa's unique sound, is our incredibly diverse musical 'background'. Although our tastes have converged over the years we've been together, each of us still has a place for the bands that got us into music in the first place. To put it simply, Kasper Rosa owes as much to Blink 182 as it does to Esbjorn Svenson Trio, and as much to Blakfish as it does to Savatage!"
_________________
I first came across this band on an episode of Glasgow Podcart, last year, and was completely taken away by them. I look forward to hearing what they come out with this year and if the live video below is any indication, I don't think they'll disappoint!
- Tiffany
Live video featuring 'The Fires of Great Ships' and 'Scaling Mount Improbable'. Performed at their practice studio in Belfast.
Filmed & Edited by Clark Philips, John Quinn and David Shawe.