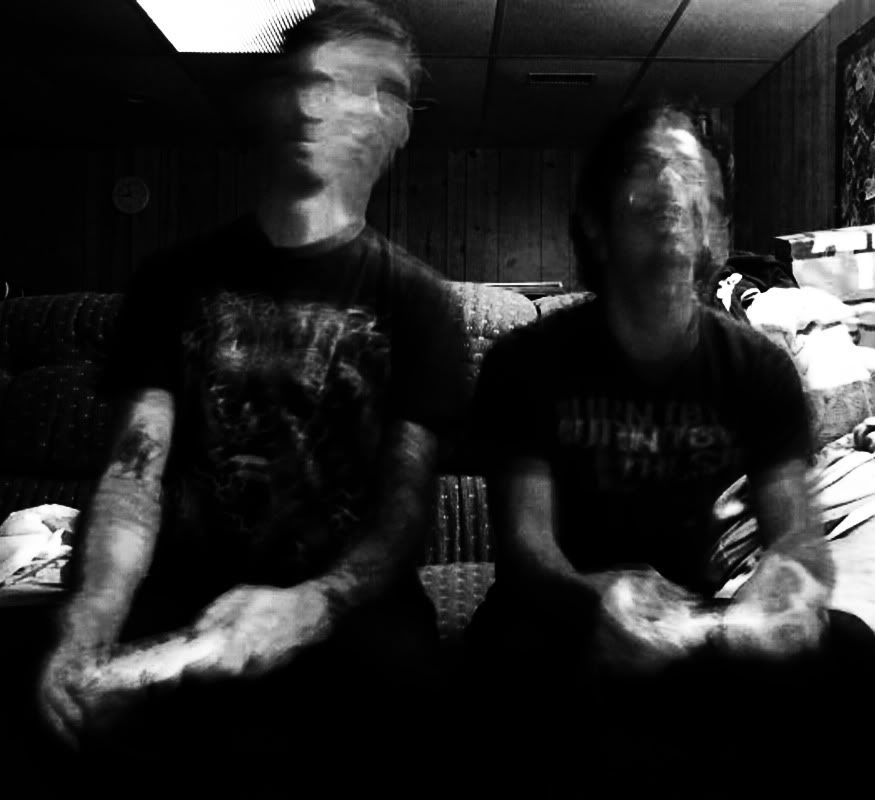 Who needs guitars? A metal band? The heck you say! Not these guys. Greber is a decidedly lo-fi, noisy sludge metal project made up of bass player from Fuck The Facts, and drummer from The Great Sabatini, with both providing equally primal vocal contributions. There is actually so much sonic space taken up with the bass, drums, enraged vocals, and other creepy aural nuances, that one couldn't possibly imagine trying to fit in a guitar track anywhere. This short, one half of a split EP with Proletar, is a nightmarish vignette with frightening images of torment, despair and sorrow, with a few killer grooves thrown in for good measure.
"Failure Saviour" takes command right away, and is an imperious, violent beast that digs in its proverbial heels to set the tone for the impending doom. A staggered, but hard hitting beat gives way to a melee of anguished screams and growls, while the main pulse of the song is driven by a big, fat bottom end with an equally imposing rhythm. The carnage stops when the song fades out with an unsettling wail of feedback. "Fuckthesoundguy" is essentially 20 seconds of grindcore, and then a 13 second chaotic spiral into sheer madness. The utter virulence that permeates this 33 seconds of succinct rancor, would make me not want to be the targeted sound guy. "Nightmares" is an interesting interlude that is essentially a trip-hop beat, interpolated with a scratchy orchestral tune, all set to a sound bite taken from a John Frusciante interview. The subtle, but creepy atmospherics add to the overall effect. The highlight of the record comes with the closing track, "No Thanks". The song opens with a charging clamor of drums with blasts of electric dissonance, and a series of disturbing choral chants. Then the song explodes wide open with a surprisingly catchy, Pantera like groove.
This EP is very purposefully under-produced. However, the abandonment of basic musical production standards lends further credence and effect to the disquieting and frightful nature of the recording. It sounds as if it could be the subject of a horror movie about a mysterious, unearthed suburban artifact in the form of an ominous looking tape..and the tape sounds like this. Just who are these guys? What are they doing to makes these sounds? Where do they come from? Well, Cambridge, Ontario actually. Watch for them coming to Halifax on February 22.