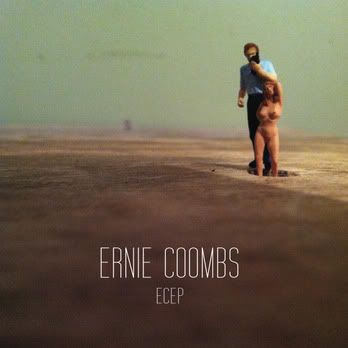 Moncton-born, Montreal-groomed Ernie Coombs consist of a bunch of francophone musicophiles who have created an alternative indie-rock sound combining a slew of influences. Since moving to Montreal last year to pursue their musical dreams, Ernie Coombs have been busy playing the city's venues and coming back to the Maritimes for a nice little tour.
This 5-song EP has more urgency and synergy that their 2010 "Do you think it would fall on us" (on which my brother contributed some album art). The sound is dirtier but fuller and more consistent, with an almost schizophrenic musicianship that can be found in songs like "Métier" that creates balance in the sporadic and catchy vocals. The five songs all have nice instrumental jams that don't linger but rather take the songs on small creative adventures an arm's length from their cores. Coupled with this musicianship are some catchy vocal arrangements showcasing a more matured songwriting.
"Mailman" slows things down a bit, showing the versatility of the band to play with subtleties. Half-way in, the song punches into a guitar solo, launching everything into a short-lived frenetic outburst. It does this a second before ending with a bit of lingering feedback. The closer, "Frugal," plays a bit of time signatures, and sees the band jam along to some jazzier chords, making it by far the strangest tune of the bunch, but an amusing one at that. I'm always a sucker for credits, too, and was surprised to see that the album was mastered by Harris Newman at Grey Market Mastering.
http://erniecoombs.bandcamp.com/
- Mario Gautreau