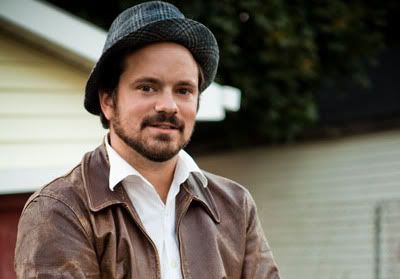 Halifax songwriter from Caledonia to follow up Hello Jesus EP with debut solo LP
Recorded in a makeshift studio in a Halifax apartment and produced by John Critchley (Dan Mangan, Elliott Brood, Graham Wright), "A Bee In Her Mouth" is Steve Gates' debut full-length record. Recording sessions started the day after a public talk given by Daniel Lanois during which he inspired his listeners to be reckless and trust themselves in the studio. The record features a number of prominent Halifax musicians such as Jenn Grant and Daniel Ledwell on "Something New", as well as Rose Cousins on "Down to the River". Kris Pope
(Acres and Acres, Jenn Grant, Down with the Butterfly) and Adam Fine (Gypsophila) each appear on a number of tracks, as do members of Steve's band, Caledonia. In this record, Gates abuses song forms old and new, filling them with his own stories and unique voice. The result is a record that is ragged and beautiful.
Steve's last full-length record with Caledonia, "We Are America", earned 5 ECMA nominations and led to a number of cross-Canada tours and one-off shows in select American cities. In 2011, Steve continued this musical journey as a solo performer. In June, Steve had a western tour with Toronto roots rockers, "The Warped ʻ45s", that started the night of the Vancouver Stanley Cup riot. This tour ended with a performance at the Dawson City Music Festival where Gates shared the stage with Yukon Blonde and Amelia Curran and was described as "yet another singer-songwriter living in Halifax, and making absolutely stunning records."
2011 ended with Steve releasing the well-received "Hello Jesus!" EP. This record and its release tour saw the formation of a new touring band for Steve with the addition of suitcase drummer and experimental recording engineer Don MacKay (Tanya Davis, Don Brownrigg, Acres and Acres) and ambient lap steel player Kris Pope. As Gates reports, "I returned home from the Toronto EP release show and the guys informed me that they had been practicing without me and they were my new band. With just one practice I was floored! Kris and Don have a delicate approach that has made the songs heavier than when I played them solo." With harmonies reminiscent of "The Band" and the ambience of a Lanois record, Gates, Pope and MacKay will be touring "A Bee In Her Mouth" across North America and select European cities throughout 2012.