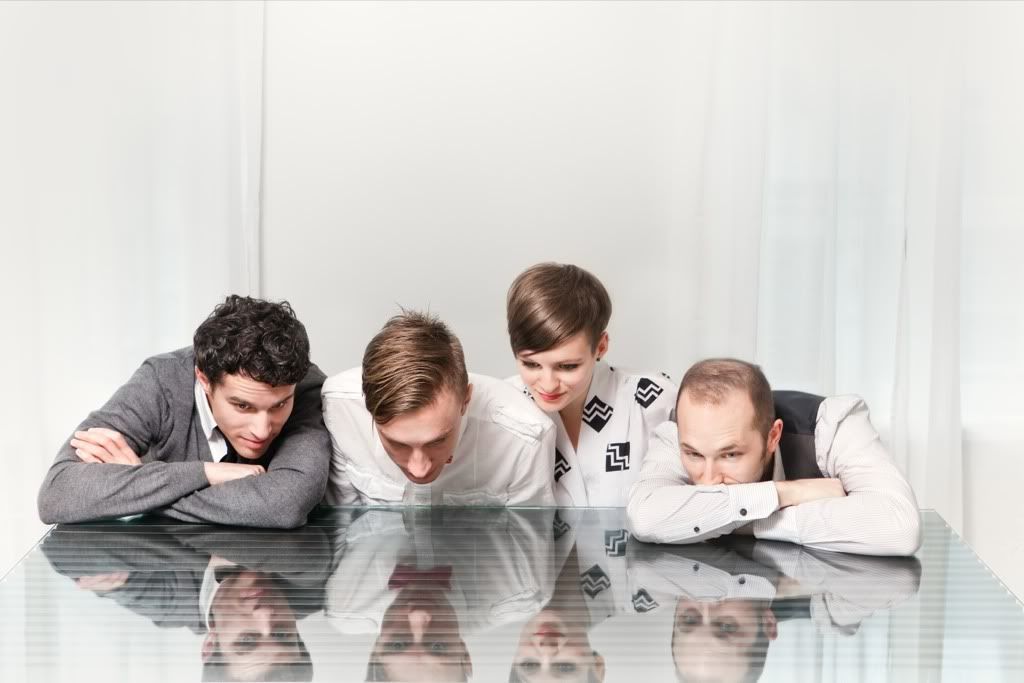 RELEASE DEBUT ALBUM
GUNS, SEX AND GLORY
ANNOUNCE CANADIAN TOUR DATES
FOR FEBRUARY TO APRIL 2012 INCLUDING CANADIAN MUSIC FEST
"Rococode, a band whose quirk-filled take on indie pop positions it as the Vancouver music scene's Next Big Thing." – The Georgia Straight, January 2012
"
It's a record that's equal parts grace, sweetness, and brazen attitude. It's surprisingly self-assured for a band as young as this one." – softsignal, January 2012
"Rococode is as crisp and catchy as they come. It features eleven Mother Mother-esque tracks, including the synthsterpiece Blood, moody two-parter Ghost and the glorious Death of a Payphone." – Uptown Magazine January 2012
Rococode, the B.C. indie-pop-rock quartet of Laura Smith, Andrew Braun, Shaun Huberts and Johnny Andrews will release their debut album, Guns, Sex and Glory on February 7, 2012 via Winnipeg-based indie label Head In The Sand. The 11 track full-length was co-produced by Mother Mother frontman Ryan Guldemond and co-produced by Rococode's own Andrew Braun. It was mixed by John Congleton (St. Vincent, Pink Mountaintops, Polyphonic Spree). NBC's Syfy program, Being Human very fittingly used Rococode tracks Ghost I & II in the episode that just aired last night (January 23).
Rococode toured Canada over 2011 and began introducing songs from their full-length, Guns, Sex and Glory to club and festival crowds. Stellar live reviews followed.

Early album reviews have been glowing. Mainstream print outlets and the blogosphere have equally praised the band for creating a truly captivating sounding debut. Home-town weekly, The Georgia Straight surmised that Rococode just may be the 'Next Big Thing." Music critics seem to be at an early consensus that there is a very special quality to the band and the caliber of the songs on this head-turning debut.
Beginning in February, Rococode will embark on a Canadian tour crossing that will span six weeks and include a stop for CMF in Toronto in late March. A brand new video for lead album track Empire, directed by Vancouver photographer and cinematographer, Sean Cox was recently shot in Vancouver and will be revealed soon. Check the bands site www.rococode.com for full show details and ticket avails.
ROCOCODE / FEBRUARY, MARCH & APRIL 2012 / CANADIAN TOUR DATES
Feb 17 – Vancouver, BC – CBC Toque Sessions
Feb 17 – Vancouver, BC – Café Deux Soleils
Feb 24 – Nelson, BC – Hume Hotel Spiritbar
Feb 25 – Kelowna, BC – Global Music Fest
Feb 26 – Lethbridge, AB – The Slice
Feb 28 – Edmonton, AB – Wunderbar
March 1 – Saskatoon, SK – Amigo's
March 2 – Winnipeg. MB – Lo Pub
March 3 – Thunder Bay, ON – Crocks
March 7 – Montreal, PQ – Divan Orange
March 8 – Peterborough, ON – Red Dog
March 9 – Ottawa, ON – Mavericks
March 10 – Quebec City, PQ – Le Scanner
March 13 – Charlottetown, PEI – Baba's
March 14 – St Andrews, NB – Red Herring
March 15 – Fredericton, NB – Capital Complex
March 16 – Halifax, NS – Grawood
March 21 – Hamilton, ON – Casbah Lounge
March 22-24 – Toronto, ON – CANADIAN MUSIC FEST
March 26 – St Catharines, ON – Mansion House
March 29 – Regina, SK – Artful Dodger
March 30 – Calgary, AB – The Gateway
April 4 – Vancouver, BC – Electric Owl
April 6 – Victoria, BC – Lucky Bar