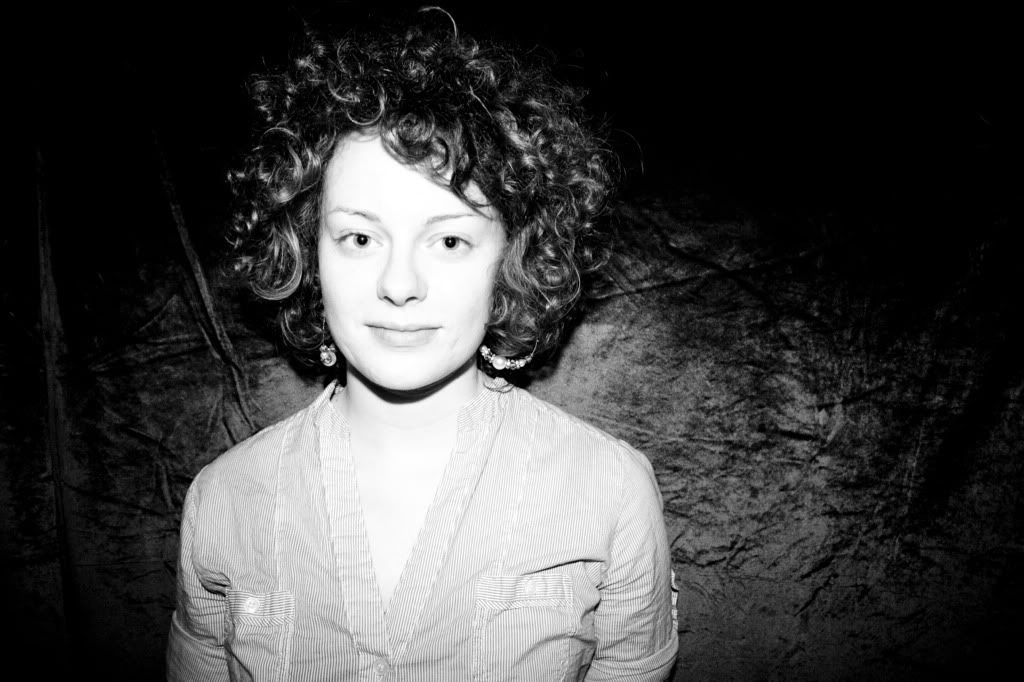 RECORDED WITH MATT LEDERMAN
&
FEATURING MEMBERS OF WINTERSLEEP, YOUNG GALAXY, PATRICK WATSON'S BAND & GRAMERCY RIFFS
Erin Passmore is perhaps best known for her work in the Regina, SK indie-rock band Rah Rah where she plays drums, keys, bass and contributes her crowd-rousing co-lead vocals. Erin's voice is not brash, booming, or overdone. It's honest, warm and real and you can't help but take notice when she takes the mic. Erin is releasing her debut solo album on February 28, 2012 called (the) Downtown EP via Hidden Pony Records.
Erin has spent year's writing, recording and internationally touring Rah Rah's two critically revered records, Going Steady (2008) and Breaking Hearts (2010). Rah Rah's latest record has just finished production, under the masterful production ears of Gus Van Go, and will be released later this year.
Her only vocal training has come from singing in her school's concert choirs (for extra credit) and belting out Aretha Franklin songs in the shower. While working so diligently with Rah Rah Erin kept carefully concealed a handful of her own songs. They are personal, poetic, reflective and wry songs that tackle personal relationships and wrestle with the confines of living in a small town.
The collection of demos, beautiful on their own for their sparseness and jolts of Erin's personality between takes, took her to Montreal in the summer of 2011 and into the studio under the production of Matt Lederman (Holy Fuck, Patrick Watson, The Besnard Lakes).

There the songs began to bloom. Friends Lowell Campbell (Wintersleep), Tim D'eon (Wintersleep), Mara Pellerin (Gramercy Riffs) joined in alongside a chain of local Montreal-based talent in Dagan Harding, Mishka Stein (Patrick Watson), Andy King, Jason Sharp, Pat Sayers (Young Galaxy) and Vid Cousins (Amon Tobin) to take the demos from charming ideas to an inspired, complete album.
Erin played electric and acoustic guitars, synth, piano, glockenspiel, moog and of course, handled all the lead vocals. An array of percussion, drums bass, trumpet, flugelhorn and bass sax anchor Erin's incredibly rich voice.
While personal relationships serve as an undeniable lyric source, there is also a noticeable nautical undercurrent to the record where recurring references to the sea, floods, water and even the song title, Rock the Boat a lovely modern doo wop flavoured track explores the irony of how Erin, raised and constantly returned to landlocked Regina, ultimately veers toward a strong connection to kinetic forces: her life as a touring musician.
Title track Downtown relates how small towns can be mutually inclusive and excluding. It tackles feeling self-conscious, but growing up, finding confidence and finding romance. "Ultimately," muses Erin, "I find I get a lot of my material from the disconnect that happens when (I) get home from experiencing some epic parts of the world. In the sense of comparing one place with another, Regina is a great place to live but it's also great to get out of for a while."
Erin will play select solo shows, to launch her record, beginning with two gigs lined up for home base Regina - the first later this week, and then an album release show on February 24. Stay tuned for further show news and video reveals. Erin's website will launch on January 31.
ERIN PASSMORE / UPCOMING LIVE DATES

/ 2012
January 25, 2012 – The Exchange – Regina, SK - 8:00 pm
February 24, 2012 – Distrikt – Regina, SK - *Downtown EP Release Show