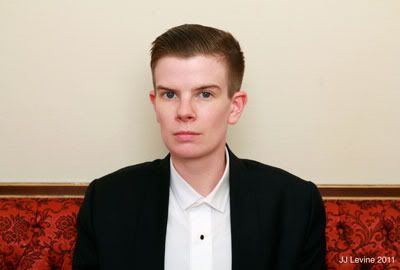 After recently arriving home from yet another European tour, Rae Spoon is now preparing to cross Canada in support of the new album I Can't Keep All Of Our Secrets.
Saved By Radio released the Montreal based artist from Calgary's already acclaimed sixth full-length album last week.
Rae will play a very special show in Halifax on February 4th .
Listen To I Can't Keep All Of Our Secrets:

Rae Spoon is a transgendered indie electronic musician who lives in Montreal and I Can't Keep All Of Our Secrets is Rae's sixth full-length release. A pop/electronic album about the complexity of grief, it focuses on a particular experience of loss. Rae wrote the album in the wake of a friend's sudden death. With palpable emotion, the songs map the topography of loss and of attachment that extends beyond death.
Musically, I Can't Keep All Of Our Secrets is Rae's most electronic album to date and marks progress in a journey that pulled Rae towards rock/electronic music from their folk roots.
Using heavily programmed production, analog synths and distorted electric guitars, Rae has moved beyond experimenting to establishing their own style in the genre. The album features computer programming and beats by Lynne T (Montreal's Lesbians on Ecstasy) and Berlin's Alexandre Decoupigny. It was co-produced by Lorrie Matheson in Calgary, Alberta.
Rae has toured extensively over the past ten years in Canada as well as internationally. Through touring, they have managed to build a strong grassroots following. Rae was longlisted for The Polaris Music Prize in 2008 (superioryouareinferior) as well as nominated for two CBC Radio 3 Bucky Awards in 2010.

Rae Spoon's I Can't Keep All Of Our Secrets Tour Dates
Jan 19 Montreal, QC @ Casa Del Popolo with Echo Beach


Jan 20 Sudbury, ON @ Cinco's




Jan 21 Orillia, ON @

The Brownstone Cafe


Jan 22 Guelph, ON @ House Concert


Jan 25

Peterborough, ON @ The Spill
Jan 26 St Catharine's, ON @ Rise Above Restaurant


Jan 27 Toronto, ON @ The Gladstone Hotel Ballroom with Rouge




Jan 28 Ottawa, ON @ SAW Gallery




Feb 4 Halifax, NS @ The Company House w/ Nolan Natasha
Feb 6 Charlottetown, PE @ Baba's with Story
Feb 11 Victoria, BC @ Solstice Café


Feb 15

Vancouver, BC @ The Biltmore with Tender Forever and ESL
Feb 16 Seattle, WA @ 2020 cycle

- With Tender Forever and Your Heart Breaks




Feb 17 Olympia, WA @ TBA – with Tender Forever




Feb 19 Portland, OR @ The Know


Feb 23 Brandon, MB @ BFMAF Studio, 130 10th Street


Feb 24 Winnipeg, MB @ Gio's




Feb 25 Regina, SK @ The Artesian on 13'th

Feb 28 Calgary, AB @ Central United Church

with Geist




March 1 Camrose AB @ Scalliwags Pub and Rum Bar


March 2 Edmonton, AB @ The Artery