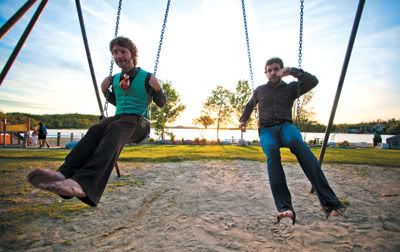 Set for their first UK national tour in 2 years,
Ox
steps up with TUCO PT69, the first UK video from their acclaimed new album, tUCo.
Directed by John Milne, the very same film maker noted for his involvement in the soundtrack aspect of 'tUCo'- the imagined film which inspired Ox to jump the gun on songs for a film that has yet to be made, 'TUCO PT69', the video, is as minimalist and charming as the sleeper gem from the album. Ox's Mark Browning explains.
We were 4 days out from leaving on the tour and John called me up and said, you gotta come over and let me shoot you- he'd done the video's for Burnout ('Unknown Legend' & 'Prom Queen') in a similiar burst of creativity- both were shot in one day- so, when John calls me, I go. He had to warm me up to the idea that we were doing a video for 'Tuco pt69', an instrumental track from the album that he'd fallen in love with... not exactly the typical single. He wanted a sort of shamanic pagan vibe to it- so he had me shred some Slash-esque air guitar over his backyard campfire. In 20 minutes he was done with me. Then he cut it together with footage we'd done for the film at the River & Sky Festival two years ago. I love its 'Canadian-ness'- all that plaid and bush-wacking. For a guy from Southern Ontario, John really gets it.
Ox has long been one of Canada's great 'alt-country' underground secrets- but with 'tUCo', and their recent string of jaw-dropping performances across Canada, the secret is increasingly out. Reaching #2 across Canada on the national college radio chart, it's steeped in atmosphere and open road imagery- the band goes from zero to 90mph and back again in the space of a chorus. 'Neil Young kissed' they've been called, and its a description that is well earned.