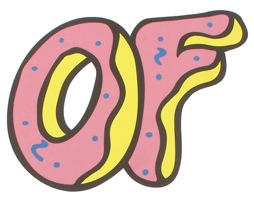 ODD FUTURE ANNOUNCES BRAND NEW ALBUM!
OF TAPE VOL. 2 WILL DROP MARCH 20
MARCH TOUR WILL INCLUDE SHOW AND POP UP
STORE OPENINGS IN EACH CITY
"LOITER SQUAD" TO PREMIERE MARCH 25TH ON ADULT SWIM
Odd Future Records announces March 20th as the release date for The OF Tape Vol. 2 LP featuring all new music from Tyler, the Creator, Hodgy Beats, Frank Ocean, Leftbrain, Domo Genesis, Mike G, Syd the Kyd and The Internet.
The group will soon announce a 10 city tour for the month of March that will include both a show and OF pop up retail store in each city. Each show will also open with an exclusive viewing of "Loiter Squad" prior to its March 25th Adult Swim premiere.