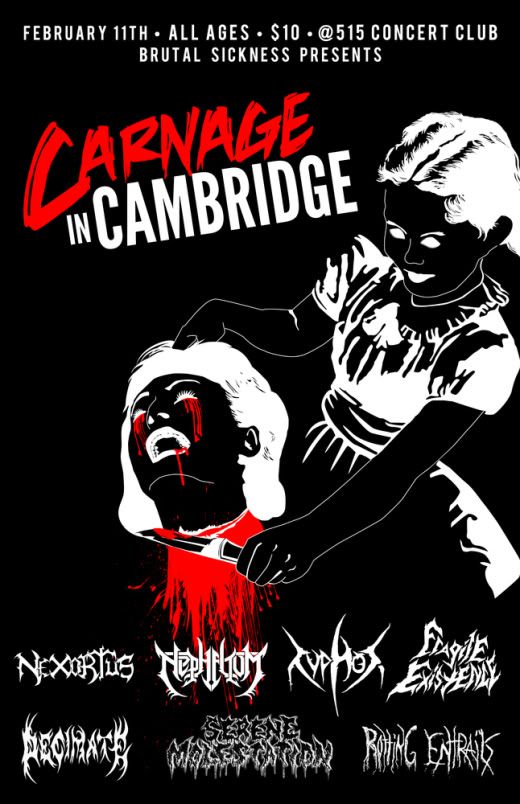 Nephelium
, the brutal death metal band that originated out of the scorching heat of Dubai and whom have now re-established themselves in Toronto, Canada for the last 10 years, are proud to announce they will be headlining this year's
"Carnage In Cambridge"
, a mini death metal fest put on by local metal website
Brutal Sickness
.
The fest will take place on Saturday, Feb 11th at 515 Concert Club (39 Queen St East) in Cambridge, ON and will see the band perform alongside local Ontario bands Nexortus, Serene Molestation, Rotting Entrails, Xyphos, Fetal Exhumation, Decimate. (facebook event - http://www.facebook.com/events/327480633948339)
NEPHELIUM is currently offering their first single "Merciless Annihilation" for free download here (http://www.reverbnation.com/nephelium) from their debut album "Coils of Entropy" set for release on Tuesday, February 7, 2012
Samples from Nephelium's six-track masterpiece that forges the perfect balance between technical death metal, old school metal and Arabian melodies are presently streaming on their Reverbnation page at the following link here.
Show Details
Date: Saturday, Feb 11, 2012
Venue: 515 Concert Club, 39 Queen St East
Cost: $10 (All Ages)
Time: 7pm
Bands & Set Times: