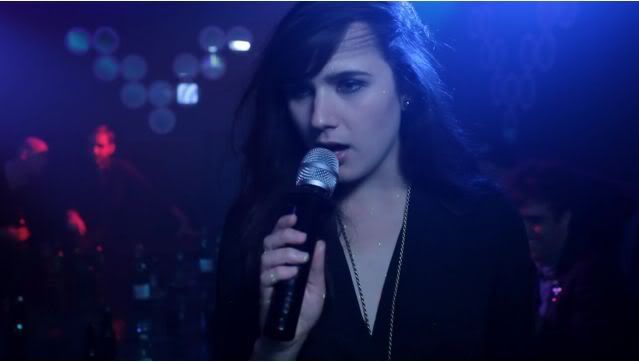 Louise Burns
is excited to unleash her new Catherine Lutes directed video for "Drop Names Not Bombs". Vancouver's Light Organ Records released Burns' debut album Mellow Drama last year in Canada to critical acclaim which culminated in its inclusion on the long list for the Polaris Music Prize. Recently, the album was released in the United States and debuted on the CMJ Top 200.
Louise Burns: We liked the idea of doing a "fun" video, as in getting our friends drunk and doing karaoke, but also tapping into a darker side; where something feels a bit off, kind of like the little girl in Poltergeist watching static on her TV. In our case, there's a poltergeist in the karaoke video in the form of me (haha). The contrast between brightness and creepiness unintentionally reflects the song as well, which sounds like a happy pop jam but was actually written from a pretty dark place.
Louise Burns applies her influences across the board on Mellow Drama. It's an album that weds ringing clarity to emotional truth over 11 originals and one gorgeously wrought cover of Leonard Cohen's "Gypsy's Wife". Even in the circling, endlessly recursive swirl of the Mazzy Star-esque "Clean" or the minatory shoe-gazey ballad "Ocean Grey", Burns and her production cohorts Dave Ogilvie and Kevin James Maher keep it trim.
Burns plays nearly every instrument on Mellow Drama which finally opens the book on a personality that was submerged during the artist's long apprenticeship years. She has been a desperately sought bassist who co-founded all-girl, twice Juno nominated rockers Lillix at the age of 11 and who has played ace wing-person to a slew of Vancouver bands ever since, most notably for her blood-sisters in the Blue Violets.
Louise Burns "Drop Names Not Bombs" from Light Organ Records on Vimeo.
http://louiseburnsmusic.com/