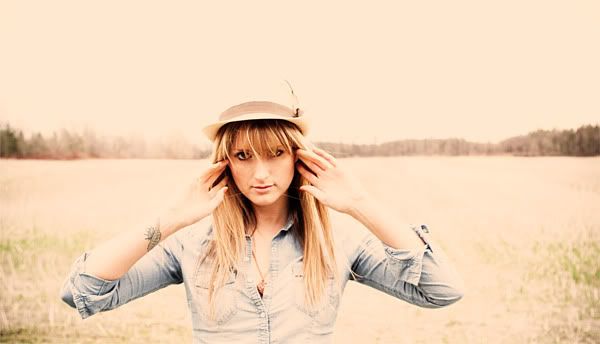 EMMA-LEE
is one of the most distinctive vocalists and accomplished up-and-coming songwriters in the Canadian music scene, garnering a string of accolades -- In 2008, she won an Independent Music Award for "Best Love Song," and showcased at high-profile festivals such as SXSW, NXNE and CMW. EMMA-LEE has also been seen and heard from her national TV appearance on CBC Television, heavy rotation on campus radio and CBC stations, and multiple film & television placements such as HBO's "Bloodletting and Miraculous Cures", Tyler Perry's "Why Did I Get Married Too?", and Degrassi: The Next Generation.
Velvet voiced EMMA-LEE won critics over with her debut album Never Just a Dream. Its eclectic mix of pop, jazz, folk and blues charmed listeners with old-time warmth and honest, confessional lyrics. The Toronto Star said "She's destined for big things" and receiving a perfect 4 of out 4 stars for the album. The Globe and Mail, while mentioning her career imperiling operation on her thyroid gland and another for an unrelated vocal-chord polyp, calls her voice "Spectacular. They sprinkled gold dust inside her throat, implanted strands of silk and coated it all with gleaming honey. The surgeries, suffice to say, were a success."
EMMA-LEE says her new album Backseat Heroine (out February 7th) "Will be a departure from Never Just a Dream, leaning more Stevie Nicks than Sarah Vaughn." The album features collaborations with Nicole Atkins, Jill Barber and Luke Doucet. EMMA-LEE will also continue to film her Backseat Sessions, a video series where she takes her music to the streets, hitchhiking and performing "one song for one ride" for a willing driver while traveling around Toronto.
_ _ _ _
Emma-Lee can do whatever she damn well pleases, okay?
Try, then, to resist the urge to regard the versatile Toronto singer/songwriter's arresting sophomore album, Backseat Heroine, as a "surprise" or a "departure" or a "self-reinvention" and think of it instead as merely the second official entry in a long discography to come that promises to be rich in future surprises, departures and self-reinventions. Emma-Lee is not the kind of gal to let herself or her art be constricted by the expectations of genre, trend and easy marketability. Emma-Lee is the kind of gal who feels pathologically compelled to pursue her creative impulses in whatever direction they might present at a given time.
"I don't know if I'm ever going to have a stream of records that are just exactly the same," she says. "I don't know if the next time I make a record it's going to sound anything like this one. I really don't know. There are artists who make a record that sounds a certain way and then they go and do it all over again because it worked, and I think that's great business and I wish I was that smart and that I could hone in on one thing. But as a writer and singer, I just love playing with so many different sounds and seeing where I can go."
Emma-Lee's sad, smouldering 2008 debut, Never Just a Dream, was rightly greeted as a breath of much-needed fresh air in the otherwise listless "jazz-pop" circles it courted. The album's disarming lyrical forthrightness and its easy, unforced flirtations with blues, country and classic girl-group swoon – not to mention the undeniably huge, pitch-perfect voice at the heart of it all – nevertheless earned it rave reviews well beyond any reductionist jazzbo pigeonholing from a broad sample of publications ranging from daily newspapers such as the Globe and Mail and the Toronto Star to alternative newsweeklies such as Now, Vue Weekly and the Montreal Mirror to the nationwide style bibles Chatelaine and Fashion magazine.
Even influential American alt-country mag No Depression weighed in with the declaration that "she is no flash in the pan, or here-today-and-gone-tomorrow dabbler … Blessed with a voice that sounds powerful and fragile at the same time, Emma-Lee displays a subtlety and nuance in her phrasing that one usually associates with an older and more experienced singer."
Backseat Heroine is, as Emma-Lee herself puts it, an album that "leans more Stevie Nicks than Sarah Vaughn." It is, as the saying goes, a little bit country and a little bit rock 'n' roll, by turns rambling and rootsy in a comfortably familiar CanCon manner, by turns robustly feminine and soulful in the vein of classic '70s soft-pop. It gets rambunctious and rollicking on the barroom-ready "Shadow of a Ghost." It revs up into an unassumingly sexy species of sashaying, Dusty Springfield-worthy soulful cool on "Figure it Out." It retires to its quarters for a quiet cry on "Not Coming By" and "The Pool of Tears." Generally speaking, though, it's just comfortable doing what it does and letting the chips fall where they might.
Such is the confidence that comes with pursuing one's own artistic maturity, though. Despite the more than three years of recorded silence that wound up elapsing between Never Just a Dream and Backseat Heroine, after all, Emma-Lee has hardly been idle from a creative standpoint since the last time we officially heard from her.
An enthusiastic student of the art and craft of songwriting with an omnivorous appetite for popular music in all its permutations, she's long since overcome an early aversion to compositional collaboration and now enthusiastically welcomes the opportunity to spar with other artists creatively. This openness has audibly led to the enrichment of her own material on Backseat Heroine, which features fruitful collaborations with Nicole Atkins on the breezy, Bobbie Gentry-inspired title track, with Jill Barber on the life-affirming "I Could Live with Dying Tonight" and with Luke Doucet on "Today's Another Yesterday," who did such a fine job realizing the song that he was eventually invited to duet on the album version.
Emma-Lee met with "a bunch of different people" whilst courting potential producers for Backseat Heroine, but wound up following her heart and doing the whole, unforced thing with two longtime friends and musical co-conspirators, Karen Kosowski and Marc Rogers.
"I knew I needed people with no ego and people who would go so much further because they had more to prove," she says. "I felt like I needed people who were gonna live it and love it and go way beyond expectation and that's exactly what I got."
The only goal Emma-Lee really set herself for her new record was to put the emphasis less on "songs about break-ups and heartbreak" and to come away with "an album that was fun to play" – one that wouldn't present itself in performance as a succession of "sleepy, sleepy songs" the way Never Just a Dream did and more accurately reflect the brassy charisma and easy sense of humour that constitute so much of her onstage appeal. Plus, she really wanted to just let 'er rip at the microphone a bit more.
"I made some vocal discoveries, ways that I could sing that I didn't know I could sing in before," she says. "And because of that I wanted to write some songs that could really show my ability. I felt like on the last record I showed off my vocal skill in a more delicate way, and I kinda wanted to belt a little bit more and have fun with my voice."
Backseat Heroine was thus recorded with Emma-Lee's road-tested band during a rush of loosely structured, intermittently boozy all-hours sessions at rural Uxbridge studio the Chalet, tracked as often and as much as they could be live off the floor. And she's since attempted to keep injecting those songs with the same spontaneous, "come what may" energy by taking them to the people, one-on-one, in a series of video-documented "Backseat Sessions" that found her hitchhiking around Greater Toronto and offering single songs to random motorists in exchange for a lift.
"I'm actually hitchhiking with strangers," she says of the Backseat Sessions videos. "I hitchhiked around Toronto carrying a sign that said 'Song for ride' and I just went around the city streets. I didn't think anyone would pick me up because who picks up a hitchhiker downtown? You could just take the streetcar, right? Getting in somebody's car is just such a rush. I was just so happy that anyone pulled over. It was, like: 'Oh, yeah, let's do it. I'm ready for this.'" And then the first person who picked me up was, like, the city councilor from East York and she was driving a convertible so I was, like: 'This is perfect, this is so great.'"
This one-fan-at-a-time approach is something Emma-Lee hopes to duplicate in less microcosmic fashion once Backseat Heroine finally sees the light of day.
"What I hope is that people hear it and think it's something they really want to go see live," she enthuses. "I just want to tour, more than anything, just get on the road and reach people that way.
"I really hope that, in a year, I'm on the road and not coming home anytime soon."
For More On Emma-Lee:
Backseat Sessions #1: "Just Looking"
Backseat Sessions #2: "Shadow of a Ghost"
Backseat Sessions #3: "I'll Dream For You"