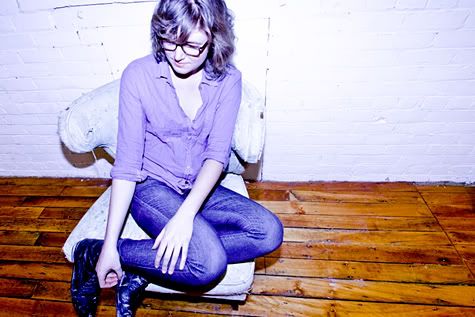 In demand, on demand, Charlotte Cornfield is charging into 2012 with numerous new projects and collaborations. This month the Montreal songwriter/multi-instrumentalist releases the video for "All of the Pretty Mistakes," the lead single from her new album Two Horses, shot on her apartment roof and directed by Derek Branscombe.
In January and February, Cornfield is challenging her fans to a songwriting match: they submit the ideas - lyrical fragments, thematic turns, personal experiences - she writes the tunes. One per week! Fans and music lovers can send their ideas to #CharlotteOnDemand or charlottecornfield@gmail.com. Look for the finished songs at http://facebook.com/cornfieldmusic.
In March, Cornfield will take the stage as Persephone in the Canadian production of
Anais Mitchell's Grammy-nominated folk opera Hadestown, performing across Alberta from March 21 to 25. The original cast of Hadestown featured the mighty Ani DiFranco as Persephone and Cornfield is honoured to be stepping into the role. For more information, see http://hadestown.com and http://anaismitchell.com.
2012 will also be a big year for Cornfield's drumming. Her all-female jazz quartet Takk just released its debut album (http://takkmusic.bandcamp.com) and she'll be touring in support of that, as time permits, as well as backing Halifax's Ben Caplan at SXSW in March and doing some writing with Kingston's The Gertrudes.
Watch out for more tour dates from this versatile and tireless artist.
TOUR DATES
Mar. 21 @ The Arden Theatre, EDMONTON AB (**Hadestown)
Mar. 22 @ The Arden Theatre, EDMONTON AB (**Hadestown)
Mar. 23 @ The Esplanade, MEDECINE HAT AB (**Hadestown)
Mar. 24 @ The Ironwood, CALGARY AB (**Hadestown)
Mar. 25 @ The Banff Centre, BANFF AB (**Hadestown)
LINKS
http://charlottecornfield.com
http://twitter.com/cornfieldmusic
htttp://facebook.com/cornfieldmusic