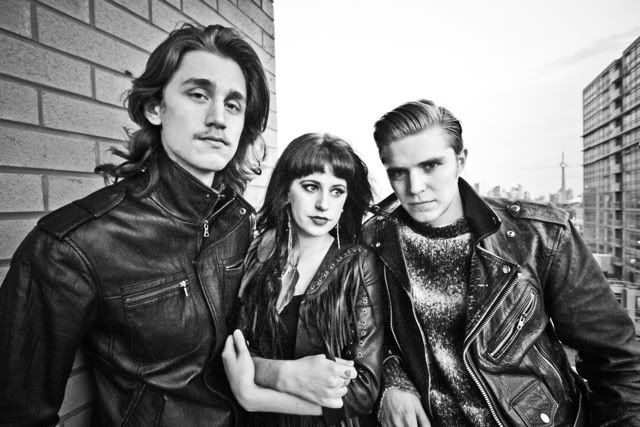 After much anticipation,
The Balconies
are releasing their new music video for "Kill Count" today! The lead single from the forthcoming
Kill Count
EP is already gaining momentum on music television and radio stations across the country. The Toronto, by way of Ottawa, trio is gearing up for the official release of the
Kill Count
EP on February 28th via Coalition/Warner.
Watch the music video HERE.
The dynamic music video was produced by Anna Junger and directed by Alon Isocianu at Reactiv Pictures. Known for their work with top Canadian artists like Finger Eleven, USS, Mission District, and more, it was an obvious fit for the band to enlist the duo to bring their energetic new single to life!
The 5 song Kill Count EP will be available digitally and physically across Canada on February 28th, 2012. The Balconies will tour the new release heavily with dates in Ontario and the east coast (to be announced soon) before heading to South by Southwest Festival in Austin, Texas and coming home for Canadian Music Week and Edgefest in the summer.
The Balconies are far from new kids on the scene. They have made the festival rounds appearing on stages at Halifax Pop Explosion, Pop Montreal, North by Northeast Festival, WESTFEST, Ottawa Bluesfest, and many more. They have been handpicked to play shows supporting the likes of Cold War Kids, Juliette Lewis, Mother Mother, Land of Talk, Sloan, and many more. The band has been featured on the cover of the Ottawa Xpress and VOIR Magazine's and called a band to watch by the National Post.
"Kill Count" was voted #16 on XM Sirius' top 50 songs of 2011 poll and recently reached #10 on CBC Radio 3's R-30 countdown. With new adds on MuchLOUD and Live 88.5 in Ottawa it's a matter of time before The Balconies' undeniable hooks find their way in to everyone's hearts. Request The Balconies "Kill Count" on Much Music and your local radio station!
WATCH The Balconies music video for "Kill Count" here: