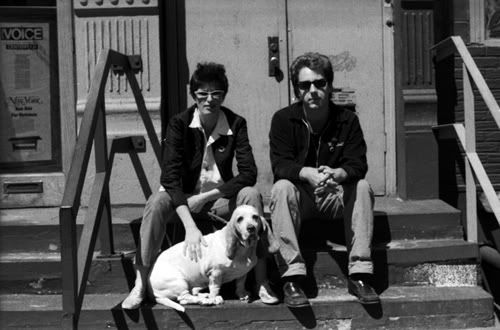 Electropop trailblazers Jeff & Jane Hudson return to their early 80's, minimalist synth sound, releasing a new 12" single on Halifax, Nova Scotia's newest imprint, Electric Voice Records. This single features two brand new tracks, "In My Car" and "Computer Jungle," backed with alternate club mixes.
JeffandJaneHudson InMyCar by Noisography
In early 2011, Captured Tracks and Dark Entries teamed up to release a deluxe retrospective that included the Jeff & Jane Hudson's 1983 debut LP Flesh, rare single material, and select tracks from World Trade EP (1980). This reissue introduced the duo to a new generation, re-establishing them as one of the most innovative and compelling bands of the 80's synth movement in America. Featuring drum machines, synthesizers and the occasional slash of guitar, they created music with both emotion and complexity. Conceived from the remains of their late 1970's punk band The Rentals, the duo left Boston for exploration in the New York No Wave scene in 1980. They hold the honour of opening for bands like PIL, Suicide, Siouxie & the Banshees, Duran Duran, Fad Gadget, Lydia Lunch and Sonic Youth.
After thirty years, the married artists are still happily making music together. They currently teach video at the Massachusetts Museum of Contemporary Art and manage a vintage art and deco store on campus. Electric Voice is pleased to be releasing Jeff & Jane's first synth-based material in decades. The first pressing is limited to 500 copies of coloured vinyl with original artwork by Jeff Hudson.
http://www.electricvoicerecords.com/
http://officialjeffandjane.com/