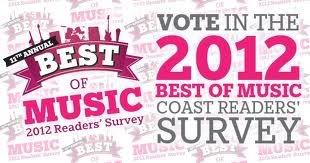 Its that time of year again Noisography Fans! The Coast's 2012 Best of Music Poll out!
If you're taking the time to fill out the poll over the next few weeks, we would be honored if you would vote for
Tiffany Naugler
,
again this year as
Best Music Photographer!
She's out there bustin' her hump to bring you awesome photos of all your fav bands every week. Lets show the love!

Tiffany Naugler
was named 2nd runner up in The Coast's Best Of Music Readers Poll for
Best Music Photographer 2011.
Thank you!