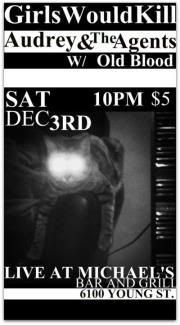 DISCLAIMER: due to camera malfunctions, there are no photos of this show.
If you have photos or video from this show, that you would like to contribute, let us know!
Saturday, December 3, 2011
Girls Would Kill
-
http://girlswouldkill.bandcamp.com/
Audry & The Agents
-
http://www.audreyandtheagents.com/
Old Blood -
http://www.oldblood.ca/
Fat Stupids -
http://fatstupids.bandcamp.com/
Halifax's most up-and-coming venue seems to be Michael's Bar & Grill, and for good reason; good sized stage, big bar, decent sound, and bands willing to play a little bit outside of the downtown core. Onstage last Friday were Fat Stupids, Old Blood, Audrey and the Agents, and Girls Would Kill; a somewhat eccentric bill, yes, but as they say: variety is the sexual lubricant of life.
Fat Stupids
are the best punk band in Halifax. There I said it. Break neck speed, high energy, and sleeveless t-shirts. So, there's that. And then there's the voracious speed at which the Stupids burned through songs. So fast, I mean…viciously, painfully fast. But it worked, and they got Michael's warmed up for the rest of the night. I like these guys and want to see them in a room full of sweaty crusty punks. I'm not sure I'd survive, but it'd be a fun way to go out if that's how it had to be.
Old Blood
are as heavy as they are melodic. As fast as they are meticulous. And as sexy as they are distinguished. Playing a solid mix of rock, alternative and a teensy touch of metal, Old Blood's set was an delicious hodge podge of manmade musical loveliness. My favorite song of the night was The Ides, a two part metal banger that showcases virtually every member of the band, specifically the hard work of drummer Cory Leach, beating the drums like a red-headed stepchild. Old Blood's album comes out sometime in the near future, so if you haven't seen them yet, make sure you head out for their CD release.

Video by Korri Mac
Third, and switching the vibe up quite a bit, was
Audrey and the Agent
s. Since seeing them on the last night of HPX, it would seem that the band has put in some hard work; I remember Audrey and the Agents being solid, band-wise, but not being a huge fan of frontwoman Chantal Caissie's voice. Things have changed though, and Caissie impressed me with her range; from sweet nothings to murder screams, she had my attention for the whole set. From their 70's punk-spritzed-with-modern-rock, to a great Gossip cover, Audrey and the Agents had the crowd dancin' and jumpin' the whole time.
And then, to make things all slow jammy and noise rocky,
Girls would Kill
took over. Trancy breaks, babygirl vocals and some straight up guitar noise, GWK immediately brought a crowd onto the dance floor and, while not as high energy as the previous acts, they were fairly undeniabe as far as catchiness goes. Adam (no vocals) handled most of the musical stylings, playing a variety of instruments and digital manipulators while Mary (vocals) had some musical input, and, obviously, handled the vocals. I've since listened to GWK's new album (Bloodshed) and have to say that the band pretty much pulls it off live. I would, though, like to see them in a smaller, sweatier dance club, as I think that's the target audience, but they still handled Michael's with diplomacy and composure, as any good indie-electro band should. If you're into bands like Crystal Castles or M83, you're gonna like Girls Would Kill, check out their album and check'em out when they come to town next.
- Stan Béland