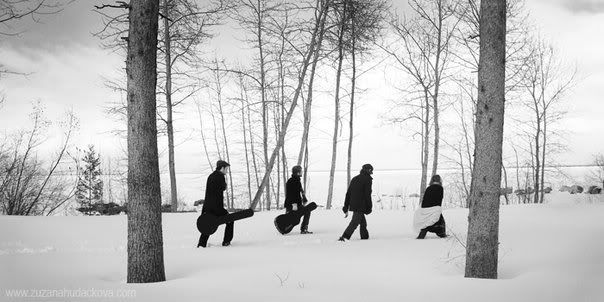 The Wilderness of Manitoba release Three Carols, a digital EP today.
Three Carols
is the result of requests from various music blogs for the Wilderness of Manitoba to record a Christmas song. Always up for a challenge, the band hid themselves away in the basement studio of their house in Toronto and came up with, not one, but three tracks. They have arranged and adapted these traditional Christmas carols in their familiar haunting style. O Come O Come Emmanuel, We Three Kings and Hark! The Herald Angels Sing feature the band's trademark four part vocals as well as newer instruments like trumpet and violin which they have now added to their already impressive sound palette.
Having toured the U.S. four times since April, including opening for such artists as Aimee Mann and Cloud Cult, and playing festivals and concerts in Berlin, Hamburg, Birmingham and London, the Wilderness of Manitoba continues its international travels in 2012. The band has been invited to perform at SXSW in Austin, Texas in March and the WOMAD Festival at Charlton Park in the UK in July.
Looking ahead, the Wilderness of Manitoba take a day off to recover from their hangovers before starting to record their new album on January 2nd.