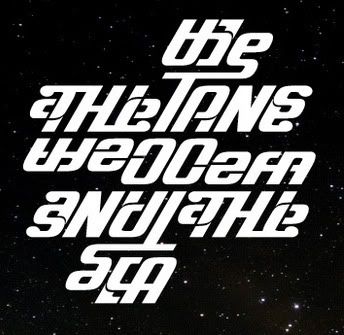 By Dan Nightingale
While this disc first came across my desk many weeks ago, I spent a long time simply pondering it's physical reality before delving into the music contained on it - from it's hexagonal shape, with clever sliding tabs, to it's mind bending palindromic font. Inside, strange hexagonal discs filled with words and pictures fall out. By the time you get to the actual music your mind is all ready starting to bend.
The opening track, The Ocean and the Sea, melds rhythmic, repetitive drums with erie, soaring slide guitars and vocals. The stilted, Nick Cave-esq vocals cast a harsh reality on the spacey musical backdrop. Red adds skittering wah-wah guitar to the mix after a brief quiet acoustic guitar intro, plus the prerequisite synth sweeps to add an extra psychedelic flair to the sound.
Live favorite Ugly People showcases a clap-a-long breakdown, with Bass String showing off the snarling bass dirt of Isaac Hansen and the high/low, guy/girl vocals. Elvis' Hips brings an appropriate swagger and a nice change of drum beat. All of the songs are short and to the point, with most clocking around the 2:00 mark and nothing breaking 3:00 minutes. While the bands live show tends to be to a pleasing blur of noise and guitar shredding, the tracks on the CD are all broken up by very brief spaces, which tends to break the immersion a little.
Take me to the Moon continues the journey in to space, all though lacking long instrumental breaks the vocals keep things fairly grounded with their aggressive, swaggery tone. Umbrella bucks the trend with Anaka's vocals taking front and centre and the band falling on a more swingy, regaee style beat complimented by funky basslines. The album concludes with Hey Neighbour, which includes some of the best vocal work on the album, and nicely mashes the funky feel of the previous track with the freakier, looser songs previous.
Overall the production is clean if a little home-made, which is not a bad thing for a scrappy band like this. Everything comes across and it's a good representation of the live show, if lacking a little of the wild energy the band has showcased at gigs. The middle of the album tends to blur together a little after the palate cleansing synth/guitar intro of Red until the swinging shot notes of Elvis' Hips.
At only 16 and a half minutes long, which is probably EP territory for most bands, the songs feel a little compressed, and probably could have been spread out a little wider with some more guitar solos or synth breakdowns. Still, it's a trip, albiet a brief one, and I look forward to hearing more material on a longer record where the band could stretch their wings a little.
http://thethetans.bandcamp.com/