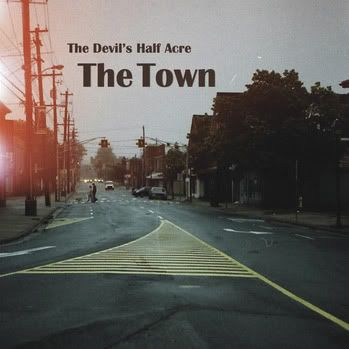 Review by Mark Laffin
"...as we grow up we don't notice how time slips away..."
I am really a sucker for a good concept album. Now to be fair, let's not limit the distinctions of this category to those of the Pink Floyd or King Crimson canon. In fact, any good album exploits a concept to some degree or another. The conceptual elements can completely rely on the lyrical imagery, or in the best cases, also encompass the instrumental components. The best of type of records in this vein manage to create an effective thematic structure that juxtaposes a linear or non-linear lyrical portraiture against a musical soundscape which also contributes to the narrative. An example of this is where the instrumentation will effectually and dramatically serve to provide the right dynamics and atmosphere for the storyline. This EP from Kentville's roots-rock powerhouse, Devil's Half Acre mostly succeeds in this particular endeavor.
The band is the brain child of singer/songwriter Chase Ross, who with this album creates a sonically effective work that stands as a bitter plea for redemption in the name of his beloved hometown. Ross has a voice that is eerily similar to Roger McGuinn, and possesses a fragile quality reminiscent of Townes Van Zandt. Along with some warm rustic essence, as well as some off-the-hinges electric feedback-fueled droves, the recording carries a dark and ominous landscape that helps illustrate Ross's lyrical plight. This short suite of musical vignettes peels back the layers of a forsaken rural community to explore some of the town's darker virtues.
"The Visit" is a rather weak opener, which presents itself with a somewhat awkward rhythm, but mostly redeems itself with its sweeping, melodic chorus. While mostly a fairly stock sounding rock groove, some of the atmospheric embellishments succeed in creating an effective setting for the story. Things get significantly more interesting with the follow up track, "Hometown Is Burning", which turns out to be the thematic centerpiece of the record. It begins with an uneasy sounding bass line, which quickly slides into a Crazy Horse like wall of noise. The barnstorm of distortion and feedback adds the right amount of foreboding ambience to the singer's wail of desperation and languish for a light at the end of the tunnel. The mood calms down a little, but is no less baneful with "River Street". Here we have Ross channeling a Nebraska-era Springsteen as he woefully tells his tale that describes a slow demise of his treasured hometown. The chorus features some heavily layered vocal harmonies, and the unexpected melody comes off sounding much like Big Star.
"Needle In a Haystack" is my personal favourite, as it settles very comfortably mid-way into our storyline, and finds a nice groove with a Tom Petty and The Heartbreakers like rhythm. This guitar-driven dirge is easily the biggest stand-out on the record, as it vaguely recalls "Mary Jane's Last Dance" or Matt Mays' "City of Lakes". The following track, "We Didn't Notice" has the instrumentation taking a temporary backseat, and serves as a soliloquy of sorts for the narrator to continue his story accompanied by a very fitting harmonica riff. To end things off, we have "Love Letter To The Moon" which is an odd coda which seems to fit as a companion bookend to the equally oblique opening song. Seeming to lack any kind of contextual purpose, the song has a hard time settling into a groove, or finding its place in the overall musical landscape. That being said, the overall feeling of this album is that it serves a very personal purpose to the band, so these few awkward moments may just very well be unjustly misunderstood by this listener.
This is not an entirely original project. There are many albums that showcase very similar themes, and the music is an amalgam of many familiar sounds. However, it's fairly evident that the band is fully aware of this, and that they are not setting out to reinvent anything. This EP comes off as a legitimate artistic statement that comes from a place that is real. The tones and moods presented in this recording are sincere, and it all feels like it has some very deep personal context for the band. The record also excels in creating genuine feelings of isolation and solitude that come from typical small town trappings. The overall tone is rather bleak, but there are shades of hopefulness and optimism in the narrator's fragile laments. Despite a few maladroit moments, this EP works as a celebration of traditional sounds with a deliberate rough-around-the-edges type charm, and is a wonderfully textured piece of work with deeply instilled working man's values and vivid storytelling.