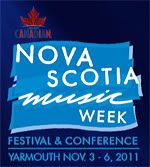 The final video overview of Nova Scotia Music Week by Ian and Heather.
Featuring:
Stone Mary, The Stogies, Rain over St. Ambrose, The Stanfield's
and
Three Sheet
-
in an elevator?
Thanks so much to the whole MNS crew for putting on such an excellent weekend of music and fun. Can't wait to do it again next year!