Over the next couple of days we will have a three part video series about the NSWM experience, including interviews and snippets with various bands and tonnes of performances! Here is Part #1!! Stay tuned for Part #2 tomorrow!!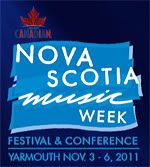 Shot and edited by: Ian Kean
Interviews by: Heather Doran
Featuring:
Interviews w/
Yarmouth Metal
&
Broken Ohms
Performances by:
Broken Ohms
,
Black Moor
,
Orchids Curse
&
Last Call Chernobyl
.