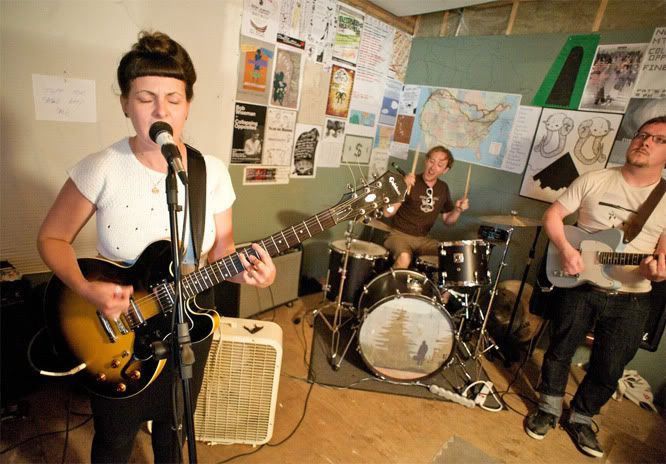 Vancouver's
The Lost Lovers Brigade
release their highly anticipated debut album,
Little Skeletons
, on Tuesday, November 29. The LP was recorded by Dave Carswell at JC/DC and features Elisha May Rembold backed up by Jason Clisby (A Virgin in Hollywood, Apollo Ghosts), Adrian Burrus (Caravan, Apollo Ghosts), and Jenny Morgan. We have digital and physical copies available upon request.
The Lost Lovers Brigade:
The idea of The Lost Lovers Brigade was not borne out of an uncommon or complex ritual. Singer-songwriter Elisha May Rembold picked up a guitar in 2006 and began writing and recording songs at home on tape. Like many previous, her creativity is a function of an inescapable imperative to write and develop ideas into song. Using her grandmother's Sears tape recorder which she acquainted herself with as a child, Rembold developed a love for the immediacy and sound of lo-fi recordings, resulting in a constant need to have recording devices nearby. For Rembold, the cupboards full of tapes and even a full phone message bank all document moments where she has felt inspired, seeing potential for her ideas to become songs.
After having reconnected with previous band members guitarist Jason Clisby (A Virgin in Hollywood, Apollo Ghosts) and drummer Adrian Burrus (Caravan, Apollo Ghosts) – with additional support from organist and back-up vocalist Jenny Morgan – Rembold was able to slowly navigate the outland of her catalogued moments and develop them into songs under the banner of The Lost Lovers Brigade. It is in the songs penned by Rembold and brought to life by The Lost Lovers Brigade that one finds the potential of these moments fully realized in a way that is accessible and startlingly affective. The songs, while rooted in pop music, are a fundamental yet subtle re-working of accessible pop-hooks that can be understood if filtered through a variety of proven yet diverse influences.
The confluence of pop melody and country texture is informed equally by Phil Spector, Guided by Voices, Patsy Cline, the post-punk stylings of The Au Pairs and the indie-pop of The Concretes. While the varied influences partly explain the group's skilled confectionary, it is Rembold's unmistakable, hauntingly gorgeous trill, which is expertly cradled by the group's warm builds, that make The Lost Lovers Brigade uniquely wonderful.
Since they began, Vancouver has seen the group perform few times, opening for Lightning Dust and Rodney Graham and playing select local shows. With members having previous commitments outside The Lost Lovers Brigade, the group has taken time to establish itself on the music scene. Each time they have performed, however, there have been few left unaffected by the group's remarkable live performance, which adds an immediacy and rawness to the group's already moving output.
Having just finished their debut record Little Skeletons with Dave Carswell at JC/DC – with a subsequent record and split 7-inch in the works – several more will be added to those strong few who have been and continue to be floored by what is truly one of the most inimitable and exciting bands to come out of Western Canada in some time.