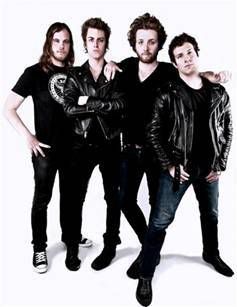 Halifax rockers Gloryhound are set to "occupy" their hometown stage at The Seahorse on Saturday, November 26th, along with PEI's Arrows In The Air and Jane's Party from Toronto. Doors open at 10pm. Cover is $10 at the door.
Gloryhound, comprised of Evan Meisner (lead vocal/rhythm guitar), David Casey (lead guitar/bg vocal), Shaun Hanlon (drums) and Jeremy MacPherson (bass), have built a solid fan base with their high-powered live shows, touring relentlessly over the past couple of years throughout Maritimes, Quebec and Ontario. Now, the title track from their latest EP, Electric Dusk is in heavy rotation at Q104 and steadily climbing the "active rock" radio charts nation-wide. Produced by Laurence Currie at Chemical Sound Studio in Toronto, Gloryhound's Electric Dusk EP earned them MusicNS award nominations for Rock Recording and Group Recording of the Year, a jam-packed showcase for national and international delegates during Nova Scotia Music Week, and a highly coveted performance spot on the recent Music Nova Scotia Awards Gala.
Earlier this year, Gloryhound was selected for the Atlantic Film Festival's much sought after "10 x 10" program, culminating in the recent release of a music video for Electric Dusk. The song was also licensed by the NHL Network for a "Play of The Week" video segment, while their song Cruel Little Tease found its way into the opening scene of writer/director Michael Melski's award-winning feature film, Charlie Zone.
Don't miss Gloryhound with Arrows In the Air and Jane's Party, Saturday, November 26th at The Seahorse, Argyle St., Halifax. Doors 10pm. Cover is $10 at the door.
For info on Arrows in the Air: http://www.reverbnation.com/arrowsintheair