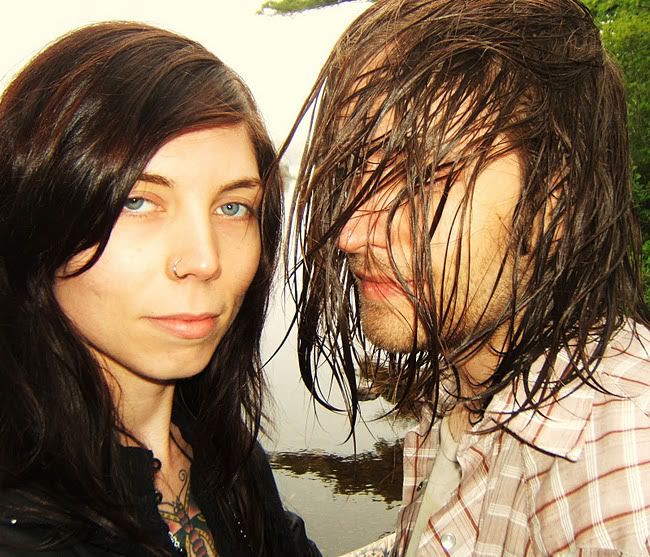 Cursed Arrows have just released a new track, One In The Blue via their bandcamp!
The free 8-song digital EP 'Skin Behind The Shroud,' will be released November 8th 2011.
The Cursed Arrows are a married duo, formed in 2006, who've been slow-touring moldy night clubs and seething all-ages venues in Eastern Canada ever since. They've recorded three full-length albums, a cassette single, an EP, and a half-dozen or so no-budget music videos. Like so many bands they know, their songs have been played on such national radio as CBC Radio 3 and consistently chart on campus radio. Unlike so many they admire, they have no manager or booking agent. No merch gal. No tour bus. They squeeze their instruments into a Honda hatchback.
Co-songwriters Ry N and Jack E are an art-school and high-school dropout respectively, and their commitment to creating music over the last decade has near-bankrupted the two. Stepping back from the mainstream in early adolescence, they've yet to return. They packed and moved their art/life to the seaside in late 2010, but the city always beckons. Sometimes words make life sound so clinical, don't they? The music disagrees. The beauty in all of this, of course, is the love. They won't stop writing, and they thank you for listening.
On the heels of the Death Rattle Blues cassette and The Madness of Crowds full-length, comes Skin Behind The Shroud. This latest EP suffered a few scars and setbacks due to computer troubles and a lack of sound mind, or perhaps too much thereof. November 2011 marks the release of the free digital EP, also available on cassette.
2011 Upcoming Shows
November 25
- Sackville, NB @ Secret Location
November 26
- Dartmouth @ CD Heaven (All Ages) 6pm
November 26
- Halifax @ Gus' Pub 10pm
November 27
- Halifax Fundraiser @ tba