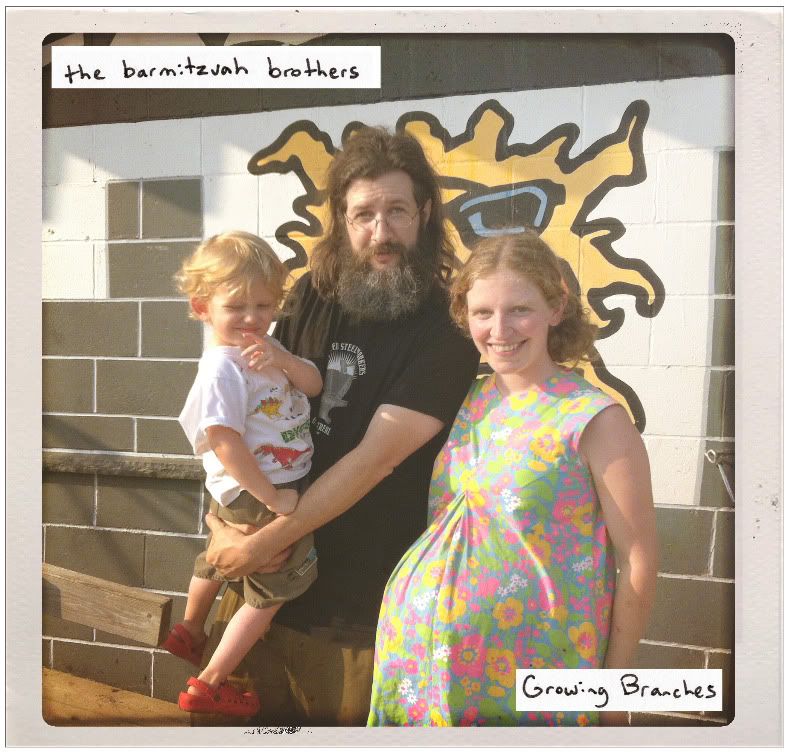 The Barmitzvah Brothers
have returned to deliver an album commemorating the birth of member Jenny Mitchell's new baby girl, Arrow.
"Growing Branches"
was digitally released via Zunior on September 16, 2011, the day of Arrow's birth. As of today (the band's eleventh anniversary), it's available for purchase through the Label Fantastic website (
http://labelfantastic.com
). It comes in 24 possible covers.
The Barmitzvah Brothers biography:
The Barmitzvah Brothers formed in 2000 by high school friends Jenny Mitchell, Geordie Gordon, and John Merritt. Despite their tender age and experience, the band was soon able to travel to extraordinary and unexpected places with their eclectic brand of music, performing across North America and in Europe, recording five albums and receiving extensive critical acclaim before even receiving their high school diplomas.
The rare experience of being in a successful working band at such a young age added a unique twist to the basic process of growing up, and the development of the three youths from amateur into professional musicians became a part of their development as adults. As years went by, Jenny, Geordie and John each began to turn into grown ups, and each began to develop their own styles and goals as musicians.
Eventually Jenny, Geordie and John's musical paths began to lead away from each other, and the Barmitzvah Brothers went on hiatus in 2008, giving each of the three youths time to follow their own course both as people and musicians. John vied to become the subject of a Bruce Springsteen song by marrying early and becoming a factory worker moonlighting as a rock musician; Geordie worked hard towards international pop superstardom, recording and touring with Islands and his own band the Magic; and Jenny commenced her career as Jenny Omnichord, solo touring musician and hardworking mother of the little son, Otis.
In 2011 Jenny contacted Geordie, John, and longtime Barmitzvah Brothers guitarist Tristan O'Malley in order to record an album dedicated to the imminent birth of her second child. Over the course of a week, Jenny, Geordie, John, and Tristan reunited at Andy Magoffin's House of Miracles in London Ontario to record Growing Branches, a series of songs celebrating the music of the Barmitzvah Brothers as well as babies, mothers, little sisters and older brothers.
The Barmitzvah Brothers released Growing Branches on Zunior on September 16th, 2011, the day Jenny Mitchell gave birth to her first little girl, Arrow. It marks 10 years since the Barmitzvah Brothers' first record, 11 years as a band, and just for fun it is being released on 11/11/11 as 11th release on Label Fantastic!