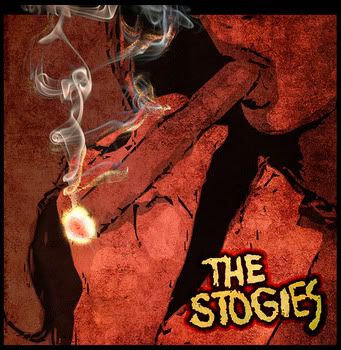 By GDK
Who can't dig some serious sounding flat-out balls to the ball rock n' roll? The elderly and Dick Nixon. Well it's a good thing that neither of their opinions matter anymore because for just over 45 minutes
The Stogies
play some seriously tasty rock n' roll!
Consisting of Blake Johnston – vocals and guitar, Sean Carver – bass, Dave Driscoll – guitar, and Dave Lidstone on drums, The Stogies are riding a rockin' train straight from hell and into your ear drums! These 4 foul-mouthed rockers from the heart of Canada have released an album that can be called nothing less than badass. Filled with catchy hooks, sizzling solos, and some memorable riffs No Couth No Class No Nothin' is an album that belongs in everyone's collection.
It's clear that The Stogies took a fine-tooth comb through all of history's greatest rockers and has taken elements and inspiration from each and mixed them into one to form their own unique sound. I'm actually not quite sure how The Stogies haven't been signed yet. It's no shocker that they've been around the block a couple times; you can hear it in the quality of the sound and the incredibly tight musicianship.
If you want to rock everywhere you go than you need this album. No matter your taste this album is necessity!
The Stogies – No Couth No Class No Nothin'
rocks and curses itself a solid
4.5 strums out of 5!