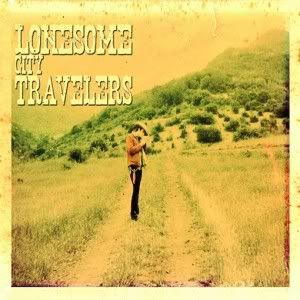 By GDK
This album is very deceiving. 'Goodbye (San Francisco Bay)' starts off with a Crash Test Dummy-esq vibe. I was thinking to myself; oh nice, another generic country album crying about someone's wife leaving them, stealing their dog and truck and driving off with another man. I'm glad to say I've been proven wrong on 3 of those 4 things (after all what kind of country album could be made without a female spouse reference?).
Consisting of Chris Metts on vocals, acoustic guitar, Scott Metts on vocals, lap steel, accordion, Kyle Clark on electric guitar, Justin Martin on Bass, and Jeremy Martin on drums. The Lonesome City Travelers create a very positive atmosphere that sets the listener into a relaxed demeanor where only a variation of the Roxbury head tilt is the correct movement (just at a slower pace than either of the Butabi Bros.).
I can't say I like country in any way, shape, or form (my mother used to blast it throughout the house as a torture for being suspended from school) but I can honestly say I enjoyed this album from start to finish. Listening through this album you can tell the emotion and effort that went into it. You can also appreciate some amazing audio quality, I searched for an hour for clipping or other interferences and nothing this baby is polished.
If you can appreciate some more melodic and softer rocking, maybe something to play around the house while cleaning or even just a simple dinner between you and your significant other than this is your album.
Lonesome City Travelers – Self-titled
debut you rock your way to
4 strums out of 5.