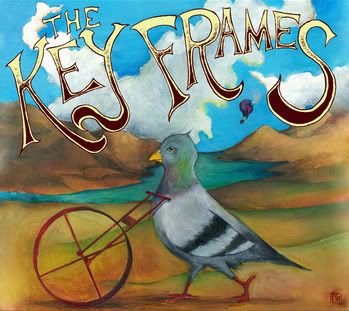 By GDK
When this first came on I had myself a little chuckle, I couldn't help but think alright so either I've heard this in a romantic comedy or I'm going to very soon. Doesn't
'The Divide'
sound like something you'd hear when Adam Sandler sees Drew Barrymore, for the first time, in one of those generic comedies you force yourself through on a Tuesday night with the significant other, in hopes of getting a little nookie?
Who can play a banjo that doesn't scream "I'm frum da souf!"? Theo Edmands, joined by guitarists Rob Webster and Brian Passmore, drummer Rob Schwartz, and bassist Ryan Higgins. It seems that The Key Frames have been on a fairly successful rise since their formation in 2007. Out On the Point boasts some very catchy and melodic grassroots oriented songs. A very easy going variety and listen, this album is ideal for any task you want to do a bit of a dance too.
The production and mixing on this album is very well done. You can hear every instrument in full clarity with absolutely no bumps or pops. Even though I'm not a fan of some of the vocal harmonies they are most definitely very well done. It's very clear that the two years of work that went into this album was well spent and not in any way wasted. The track that stood out on this album the most to me was easily 'Can't Kiss You Again', a very melodic slow jam that carries an overtone of sadness.
Filled with some powerful jams and some up-lifting grooves Out On the Point holds its own even to some of the pickiest listeners. If you fancy yourself a drinking album then this is a great choice.
The Key Frames – Out On the Point
drinks its way to
4 strums out of 5
!
http://thekeyframes.bandcamp.com/