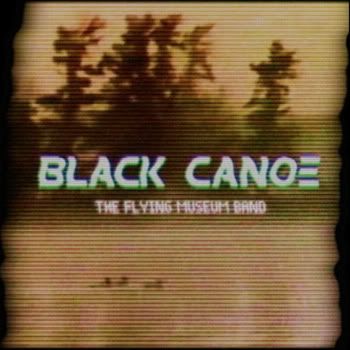 by Mario Gautreau
This double-dose of songs from these Toronto space-roots boys wastes no time jumping into catchy guitar leads and sing-alongs. Recorded over two days in June, the EP kicks off with the title track, Black Canoe, where a soft build-up quickly gives ways to a catchy lead guitar and sing-along verses. The band blends acoustic guitars with a chorus-soaked lead guitars that at times seem to incessantly carry on a melody, whether through the verses, the chorus, the breakdowns. The song's air is something that'll stay in the head for a bit, not because it's anything beyond amazing, but because it's one of those earworms that like to stay a while in your head, get comfortable, have a beer and pass out on your couch. The song's ending features the seminal fade out chanting, where everything rocks a little more and attempts to bring the listener in the sway.
On the flip side, the second track, Lean Ways, seemingly rids itself of any conventional melodies, plunging a bit more into a spacy exploration of sound. Through a nice nod-along beat and pairing of chords, the vocals and lead guitar each go on their own tangents for a bit. Together, they emit a slight dissonance that's a bit hard to tell if it's intentional or not. The transition into the chorus feels a little forced, or rushed. Here and there, notes seem to fall a bit flat, though one vocal melody resonated Neil Young's, while at times reminding me a bit of Millencolin's Nikola Sarcevic, but slightly off cue. While there are no angular time signatures or screwy melodies, there's a sense that something is out of tune.
The EP, from what I can tell, is a departure from the band's previous sound, where heavier tinges of bluesy folk and Canadiana country give the impression that the band would lend itself to a wider array of ears, to a few more beers and an assortment of foot stomps. Their website is pretty impressive and amusing, and I would recommend everyone to venture on it just a little.
http://theflyingmuseumband.bandcamp.com/album/black-canoe-ep