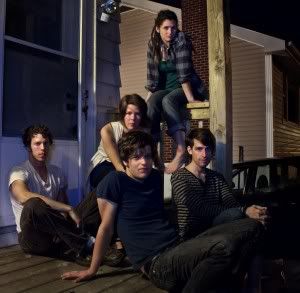 The 6 seasoned members of
This Ship
have been brought together by a mutual passion for intricate, diplomatic song writing - and are having the time of their life! This is what they all live for! Over the past four months they've been exploring the depths of their musical, collaborative skills.
Wintersleep jams meet the layers of Arcade Fire - they've created a soulful, Indie-Pop sound. With an old Light Brights album in their back pocket, and a new, 3 song demo hot off the press, This Ship will be travelling through the Maritimes and onto Ontario!
Thurs, Nov. 17th - Plan B, Moncton NB
Fri, Nov. 18th - Private House Party!
Sat, Nov. 19th - The Red Herring, St. Andrews, NB
Mon, Nov. 21st - The Spill, Peterborough, Ont with The Details and Kalle Matson
Tues, Nov. 22nd - The Legendary Horseshoe, Toronto, Ont
Wed, Nov. 23rd - Slacks, Toronto, Ont with Minus World
Thurs, Nov. 24th - Live Lounge, Ottawa, Ont
Fri, Nov. 25th - The Capital, Fredericton, NB
Sat, Nov. 26th - Baba's Lounge, Charlottetown, PEI with Oh No, Theodore!
Fri, Dec. 2nd - Gus's Pub, Halifax, NS
- Flight of Fall Music Festival*
*The Flight of Fall Music Festival (Dec. 2nd & 3rd) is brought to you by Berserker Lion Music Collective.
http://berserkerlion.com/wordpress/?page_id=101