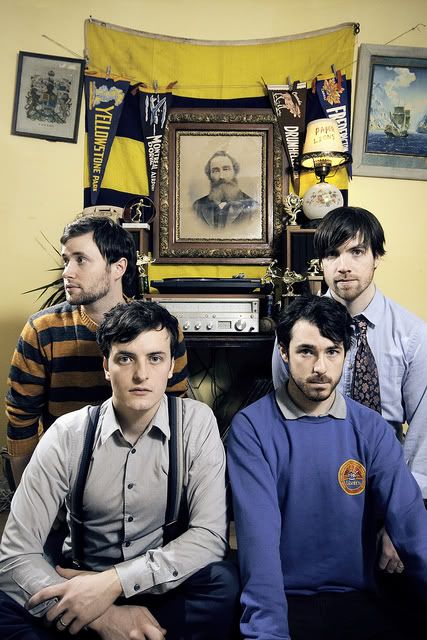 PREVIEW New Single "Parent's Talk" from the forthcoming LP:
Parents Talk by Young Lions Music Club
East coast favourites Paper Lions will bring their exuberant indie pop rock to stages across the country this fall on a national tour, along with a 'taste' of their home province to each city they visit. After spending a month in Ontario, the band will head west and preview four new songs from their forthcoming LP in the process. Audio Blood is teaming up with Young Lions Music Club to present "the Paper Lions Rolling Oyster Revue"; a tasty idea that sees the band shipping and shucking fresh PEI oysters for fans and friends at day events in many tour markets nationwide.
To promote the idea, the band's drummer, David MacDonald, has created a lighthearted 'how to' instructional video on Oyster shucking. MacDonald, who for two years worked for the PEI Oyster Company, prides himself on the technique he has casually perfected over the years. It was his idea to bring the shelled treats on the road this time, after a tour in 2009 which he - on a whim - brought a cooler full of oysters, and subsequently made quick friends with fellow bands and fans in the parking lot before shows. Says MacDonald: "It turned out be a a great conversation starter, and a way for us to show pride in our home, even when we're on the road". View the Rolling Oyster Revue intro video
HERE
.
Paper Lions are the type of band to obsess over, if only for the undeniable hooks in their catchy anthems. The east coast can't get enough, as the band has been nomitated 13 times at the East Coast Music Awards. Their stage presence keeps fans coming back again and again. "Paper Lions are cracking musicians, marrying catchy, shout-along pop with madcap showmanship", Chart reviewed, "these cats have all the earmarks of a breakout sensation."
The band, which until 2008 was under the moniker Chucky Danger Band, has been together since 2004 and has toured with the likes of Cake, Tokyo Police Club and Hot Hot Heat. Since their debut, their talent has not gone unnoticed with their music receiving a great deal of praise. "Stay Here For A While," from the current album Trophies, was a finalist for the prestigious 2010 John Lennon Songwriting Competition and the video for "Lost The War" garnered a nomination for the 2010 CBC Radio 3 Bucky Awards.
The band is currently working on a new album and will be previewing songs from it for audiences on tour this fall. They are doing a residency in Toronto at the Supermarket throughout September.
TOUR DATES
Oct. 13 @ The Capital, FREDERICTON
Oct. 14 @ George's Roadhouse, SACKVILLE
Oct. 15 @ Peppers Pub, SAINT JOHN
Oct. 20 @ Lo Pub, WINNIPEG
Oct. 23 @ Horseshoe Club, JASPER
Oct. 24 @ The Royal, NELSON
Oct. 26 @ Media Club, VANCOUVER
Oct. 27 @ The Pawn Shop, EDMONTON
Oct. 28 @ The Vat, RED DEER
Oct. 29 @ The Gateway SAIT, CALGARY
Nov. 2 @ Belmont, MONTREAL
Nov. 11 @ The Wave, CHARLOTTETOWN
Nov. 12 @ Seahorse Tavern, HALIFAX