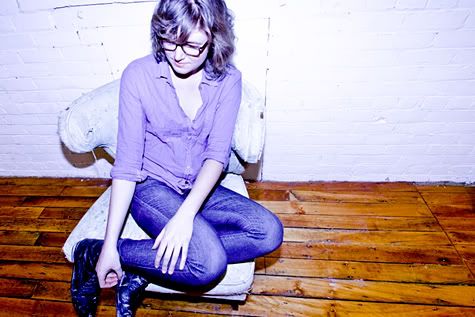 Two cities, two people, two forces - this is the grit of Charlotte Cornfield's debut LP
Two Horses, set for release October 25th. The record follows her previous EPs It's Like That Here (2007) and Collage Light (2009) with a rich, developed sound, produced by longtime collaborator Ryan Granville Martin - and featuring an A list of Toronto musicians. Conceived with A and B sides, Two Horses reflects Cornfield's dual musical influences: the deep lyricism and raw emotion of rock poets Mitchell, Dylan, and Young, and the intense energy and hookiness of late-70's New York rock 'n' roll. It's a trip to despair and back, with some deft comic relief to make you smile!
At 23, Cornfrield is already a veteran of festivals and clubs from Halifax to Victoria - Hillside, Mariposa, NXNE, Pop Montreal, Ottawa Folk Festival, Sunshine, In the Dead of Winter - and has shared the stage with Ron Sexsmith, Mary Margaret O'Hara, Dead Prez, Mirah, The Sadies, Joe Pug, Leif Vollebekk, and many more.
In performance, she's as honest as her lyrics, captivating audiences with an electric intensity and deep musicality. People put down their drinks and stop talking. You can catch her this fall throughout central and eastern Canada in a run of tour dates in support of Two Horses, including two showcases during Halifax Pop Explosion. Her Toronto release is October 27 at the Dakota Tavern, and the Montreal show happens a week later on November 4 at Sala Rossa.
Watch for a video of the lead single "All of The Pretty Mistakes" to be released shortly. In the meantime, get a taste of Two Horses below, and view two new live videos recorded for Southern Souls on October 8.
TOUR DATES
Oct. 20 @ The Bus Stop Theatre, HALIFAX (**Halifax Pop Explosion Audio Blood Showcase w/ Ben Caplan)
Oct. 21 @ The Citadel Hotel, HALIFAX (*Audio Blood Tweet Up))
Oct. 26 @ The Casbah, HAMILTON
Oct. 27 @ Dakota Tavern, TORONTO (*CD Release Show)
Nov. 1 @ The Spill, PETERBOROUGH
Nov. 2 @ The Grad Club, KINGSTON (w/ The Gertrudes)
Nov. 4 @ Sala Rossa, MONTREAL (*CD Release Show!)
Nov. 7 @ STFX Art Gallery, ANTIGONISH, NS (w/ Ben Caplan)
Nov. 8 @ Bunkers, SYDNEY, NS (w/ Ben Caplan)
Nov. 9 @ Strut's Gallery, SACKVILLE, NB (w/ Ben Caplan)
Nov. 10 @ Plan B, MONCTON, NB (w/ Ben Caplan)
Nov. 11 @ Capital Complex, FREDERICTON, NB (w/ Ben Caplan)
Nov. 12 @ Pepper's Pub, ST. JOHN, NB (w/ Ben Caplan)
Nov. 13 @Fusion Cafe, WOODSTOCK, NB (w/ Ben Caplan)
Nov. 19 @ The Pearl Company, HAMILTON (w/ Ben Caplan)
Nov. 20 @ Van Gogh's Ear, GUELPH (w/ Ben Caplan)
Nov. 21 @ Cafe Pyrus, KITCHENER (w/ Ben Caplan)
Nov. 23 @ APK Live, LONDON (w/ Ben Caplan)
Nov. 24 @ The Phog Loungs, WINDSOR (w/ Ben Caplan)
Dec. 9 @ The Elmdale, OTTAWA (w/ The Gertrudes)
LINKS
http://charlottecornfield.com
http://www.facebook.com/pages/Charlotte-Cornfield/21878470967
http://twitter.com/cornfieldmusic
http://myspace.com/charlottecornfield