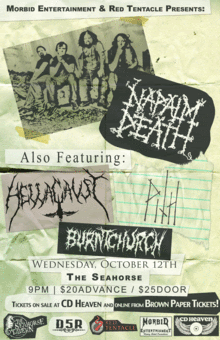 MORBID ENTERTAINMENT & RED TENTACLE PRESENT:
NAPALM DEATH
w/special guests: HELLACAUST, BURNT CHURCH + PITH
Wednesday, October 12th 2011
@ The Seahorse Tavern
Overview and Videos by Ian Kean
Photos by Tiffany Naugler
Napalm Death in Halifax, at the Seahorse, on a full moon , with Opening bands Pith, Burnt Church and Hellacaust. It's like Christmas in October for the 300 plus metal heads who said fuck Thursday morning and packed into the Seahorse to drink cheap beer and get their asses kicked by true Death Metal legends.
Kicking off the night with a heavy as hell set was newly formed band "
Pith
" who were playing their first show ever, although you probably would never know that by seeing this set. Pith was fast , tight and heavy which really came to no surprise considering the line up of the band. Made up of well known, local metal musicians Jason Vautour, Myles Deck, and Troy Kirker, "Pith" bring years of experience in brutality to the stage, and singer Brett Campaigne tops it all off with an energetic stage performance and expert vocal execution. Pretty damn good for a first show.
Burnt Church
were up next and although I have seen and reviewed theses guys several times, this was the first time seeing them with a stage sound as good as the sound at the Seahorse. This set was a good reminder of how proper sound can work wonders for a band. Their set had a perfect mix of guitars and vocals, with a thunderous rhythm section and was by far the best I've heard Burnt Church sound to date.
Hellacaust
hit the stage around 11 and took the Seahorse by storm. I could go on for days about why these guys are Halifax's best metal band ( in my opinion ) but probably never express exactly what it is that makes them as good as they are. With a sound that falls somewhere in the realm of 80's Thrash meets death metal, meets grindcore, Hellacaust have spent the last decade touring Canada perfecting their live show and putting out killer metal albums, all of which you should buy! On this particular night the sound was great, the band was tight and the pit was rowdy.
Napalm Death are probably one of the best known Death Metal bands of all time, a fact confirmed by the packed to the max crowd at the Seahorse. With a set that seemed to span their 20 plus year career, Napalm Death had the full attention of the entire bar from the first scream to the last grind beat. Singer Mark "Barney" Greenway spoke profoundly on issues such as Government and Religion in between songs which served as perfect segways into more tunes of intense and powerful metal. The crowd energy was through the roof during Napalm Death's set , the mosh pit seemed to move in sync with the band, growing more and more intense as the band played old Dead Kennedy's and Cryptic Slaughter covers.Other than the band being fantastic, it was good to see a metal show of this caliber at the Seahorse Tavern, a bar which over the past few years has been a little shy on hosting big metal shows. As the best live venue in town, I for one hope that this show was not merely an exception of The Seahorse's policy on metal but more of an adjustment to that policy.
INTERVIEW W/ NAPALM DEATH