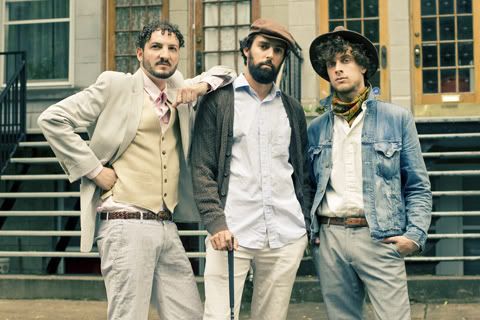 Click "ATTENDING" on the Facebook Event and automatically become entered to win a pair of tickets to the Radio Radio show at the Seahorse Tavern in Halifax, NS on September 21st!
Or send an email to
noisography@gmail.com
with the subject line "
FREE RADIO RADIO TIX
" if your not a fan of Facebook.
We'll draw two winners on September 19th!!
https://www.facebook.com/e

vent.php?eid=1775611423058

36
About Radio Radio:
The Radio Radio story starts with a first EP entitled Télé Télé, released independently in 2007, and the band starts to perform here and there, spreading their electro tinted rap and warm accents. In 2008, the quartet formed by Jacobus, LX, TX and Timo signs onto Bonsound Records and Cliché Hot, their first album, sees the light of day in May of 2008. The charm of the Maritimes instantly takes over the province of Québec and the expression "cliché hot" becomes common slang within the local indie scene, as the song Jacuzzi becomes a real ode to joy. After months of touring throughout the country with a few dates in the U.S. (FrancoFolies de Montréal, Pop Montreal, Transmission, Canadian Music Week), after two nominations at the ADISQ Gala of 2008 in the Hip Hop Album and Revelation of the Year categories, after the 2008 RIDEAU/ACADIE award, Radio Radio becomes a trio and begins to write the new album with enthusiasm and determination.

Up for nomination at the 2009 ADISQ Gala in the Videoclip of the year category for Jacuzzi, Radio Radio launches their second album Belmundo Regal in a sold-out venue, in March 2010. With a breathtaking album cover, original songs and their unusual quirky texts, Belmundo Regal is an incredible revelation for the press and the public. It's a turning point for the group as Alexandre Arthur Bilodeau, Jacques Alphonse Doucet and Gabriel Louis Bernard Malenfant witness the musical transition of the band as well as an artistic revolution.

Once again, the shows keep on coming: two sold-out nights at Cabaret Juste pour Rire in Montreal during the FrancoFolies de Montréal and one also sold-out show at L'Imperial in Quebec city for the Festival d'été de Québec in front of a delirious audience. Six shows in Austin, Texas for SXSW, the Festival International de Louisiane, a sold-out Club Soda in Montreal, CMJ in New York City and the memorable St-Jean show in Villeray, where the band played for an endless sea of spectators (10 000 people!).

After being nominated on the short list for the prestigious Polaris Music Prize, Belmundo Regal has recently won many awards: A Miroir Award for best hip hop / urban performance for their Quebec city show at L'Impérial, a Félix Award for Producer of the Year with Sébastien Blais-Montpetit, two GAMIQ Awards for Hip Hop Album of the Year and Video of the Year (Dekshoo), a Nova Scotia Music Award for Francophone Artist/Group Recording of the Year, the Edith Butler Award from the Association des auteurs-compositeurs du Québec and a Éloize Award for Most Successful Acadian Artist Abroad and the band was also hailed Révélations Musique 2010-2011 by Radio-Canada.

It looks like 2011 will be just as impressive for the group. A third album is in the works and many shows are to be announced in Canada and in Europe. Radio Radio is definitely on the high road to glory!



http://www.laradioradio.co

m/


http://www.facebook.com/ra

dioradio?ref=ts


http://twitter.com/laradio

radio