Photos and Overview by Stan Béland
Video by Tiffany Naugler & Dan Nightingale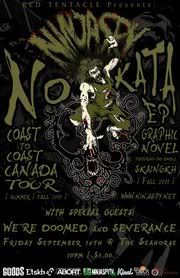 NINJASPY, WE'RE DOOMED & SEVERANCE
Friday, September 16 at 10:00pm - September 17 at 1:00am
@ The Seahorse Tavern
Brought to you by:
Red Tentacle
-
http://redtentacle.ca/
The Seahorse Tavern
-
https://www.facebook.com/groups/19546129264/
Join British Columbia's NINJASPY on their Halifax stop as part of their cross Canada 'No Kata' tour. Special guests include WE'RE DOOMED & SEVERANCE [ 10pm | $8 ]
Every now and again, an act comes along that you know you're gonna hate. You say to yourself "Stan? You're gonna hate this band. It doesn't matter if you've heard nothing but amazing things about their live show. It doesn't matter that they have some of the craziest metal breakdowns you've ever heard. What does matter is that they mix Reggae and Metal. You're gonna hate these guys." So that's the head space I went into the Seahorse with to see BC beasts Ninjaspy. Backing up these crazy hybrid-monsters were local bands Severance and We're Doomed!.
Severance
got on stage and laid down some pretty solid metal. Halfway between Southern metal and death metal (A Halifax trend, I've noticed in the last few months) Severance unleashed a big ol' slab o' beef, all locked down by vocalist Mitchell Mahar-Simms' extremely versatile voice. Comparable to the best I've seen in Halifax, Mahar-Simms might have one of the better scream ranges in town; boomy death-metal lows and soaring, throat-shredding highs. As for the rest of the band, everyone was very talented and the big riff mentality was on display in a big way. These guys can definitely look forward to getting a local fan base going.
We're Doomed
have to be some of the nicest guys I've ever met. After their (mostly amazing) set, I went up to bassist Mike Andrews and said "Great show, man." Mike immediately introduced himself, shook my hand, and had a chat with me. Who does that anymore? Regardless of their youthful charm, the guys in We're Doomed are scary talented; everyone in this band is pretty much a master of their instrument, skating a fine line between computer-like precision and having a complete blast onstage.
Sound-wise, We're Doomed remind me a lot of Fall of Troy, except way, way, WAY better. Proggy breaks, big breakdowns, and full on attack riffs make these guys one of my favs in Halifax. They've got energy, they've got talent and they're making a whole lot of noise here in the Halifax scene and abroad. Now, for my one, and only, criticism of these guys: We're Doomed needs a dedicated singer like a Hipster needs skinny jeans. Everyone in the band sings or screams, but what they're missing from an act of, say, Fall of Troy's caliber, is a heavyweight singer who can knock vocals out like a boss. That's not to say that the band should stop singing, no they've got a lot of talent, but no one member is a true frontman. Add that last missing piece of the puzzle and We're Doomed might be unstoppable on the scene.
I still want to hate
Ninjaspy
, I want them to not be as ear-bleedingly, mind-blowingly, tear-up-my-insides awesome as they were. It doesn't make a LICK of sense: Reggae? Metal? Rock? Sure, they're all guitar driven but, realistically, these three things should not fit together. And yet the Parent boys out of Port Coquitlam, BC are easily one of the coolest bands I've ever seen live. I've never, ever seen three guys set fire to a small show like these guys did; each member of this band is prodigiously talented, incredibly energetic, and, let's just say it, straight up awesome. I feel like I may have made drummer Adam Parent really, really uncomfortable. He might think I have a big gay, crush on him. And he'd be right. I do. I'm gay for his drumming ability. Totally queer for it. Dude is a MONSTER; if We're Doomed were a brand new laptop, Adam Parent, all by his lonesome, is a goddamned supercomputer, programming the world. The WORLD, son. Honestly, I've never seen a drummer this good live; I've seen faster, and I've seen harder hitting, but never as complete as this guy.
In the bass department Tim Parent is, basically, Jesus. He was playing his instrument so fast and seemed to play all strings on his bass at the same time, all the time. I've never heard someone by this fast and still as heavy as he was. Holding every single thing down, Tim would just start dancing out of nowhere and still hit every note. Something tells me that if he'd missed one he'd have committed seppuku (look it up) on the spot, dying out of pure shame from missing a single, solitary note.
Finally, the whirling dervish of a frontman, Joel Parent; I've seen video of Ninjaspy since their show at the Seahorse, and if there's anything that I can say about Joel's performance on Friday, is that it lives up to just about every other performance I've been able to find. Sure, we missed out on karate kicks, guitar tosses and synchronized madness with Tim but, if you take into account the size of the Seahorse stage, he's pretty much the Tazmanian Devil with a Britney Spears mic. The guy LITERALLY used a sai to play slide guitar. A weapon, a legit weapon, used as a guitar slide. Like…come on, really? How could you be more awesome? You can't. I really don't think I'll see a band as ridiculous as Ninjaspy again. I might see shows that I love more, but nothing will come close to the all out assault of weird/awesome that I witnessed last Friday. Do yourself a favor and see these guys if you can; they sound like no other band you've ever heard, they OWN live, and they genuinely love their fans. They play the music that they love, and that translates so well in a live setting.
So I walk away from this show loving Ninjaspy, and thinking that they are definitely one of the coolest bands in the world. I still want to hate them, but realize that resistance is futile. Why hate, when love is the obvious choice? See them, seriously.