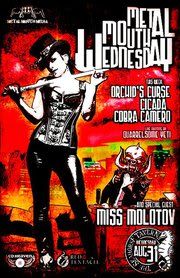 Overview by Stan Béland
Photos by Tiffany Naugler
Wednesday Aug 31st @ The Seahorse Tavern
1663 Argyle St | 9pm | FREE
Cobra Camaro
-
http://cobracamaro.bandcamp.com/
Cicada
-
www.cicadametal.com
Orchid's Curse
-
http://orchidscurse.wordpress.com/
Miss Molotov
-
http://www.facebook.com/pages/Miss-Molotov/75273922454?sk=info
METAL MOUTH MEDIA
-
http://www.metalmouthmedia.com/
Metal Mouth Media puts on a hell of a show.
Fire play, skits, punk rock, death metal, last Wednesday at the seahorse had it all. Well, it had the four things I just said. Kind of.
Starting off the night with a fairly ridiculous skit played out by the guys at Metal Mouth and the members of Cicada, making their way through the streets of Halifax, rushing to get to the show on time. It had a pretty classic "get all my buds and go to a party" feel to it. The crowd liked it and it set the tone for the good time vibes that would continue throughout the night.
Fact: I hate fire marshals. This is based PURELY on the decision to not let Miss Molotov do her full show last Wednesday. It was her last show as Miss Molotov and she had hoped to go out with a bang, but it turned out Johnny McFirelaw caught wind of what was happening and shut her down. While it was definitely disappointing to miss out on what I've heard is a great show, Molotov still managed to freak the audience out by putting a fricking blowtorch out. With. Her. Tongue. I mean, come on, how does anyone figure out they can do that? How drunk do you have to be to be all like "nah, fuck it. I can totally put this out with my tongue." You know what I know I definitely can't do? Put a blowtorch out with my tongue. Happy trails to Molotov, hopefully we'll see her back in Halifax soon!