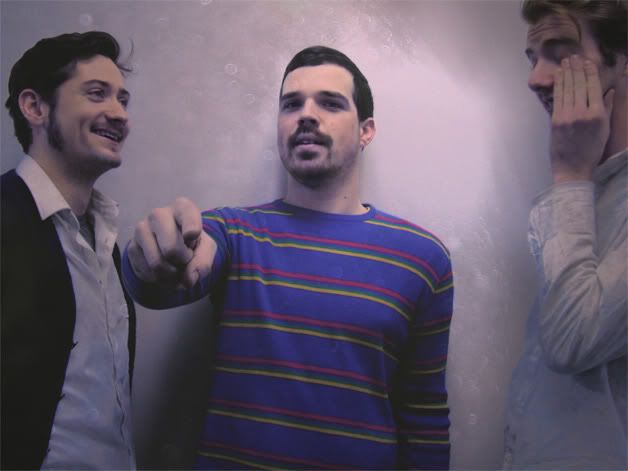 Reversing Falls has premiered "Is This Thing On?" the first single from their self-titled, debut LP. Due out on January 24, the highly anticipated album was produced by Mark Lawson (Arcade Fire, Unicorns, Timber Timbre). You can download the song (and both of the band's previous EP's) at their Bandcamp page or at the link below.
Formed in Montreal during 2007 by Tyler Crawford (vocals, guitar) and Jesse Ash (bass), Reversing Falls took it's current shape after enlisting guitarist Charlie Neufeld and the steady tick of an Akai MPC 1000. Their 2010 Recoder EP was recorded by the band and Martin Horn (Parlovr, Cotton Mouth) and mixed by Mark Lawson. Recoder showcases their ability to deliver precision crafted, filler free guitar pop and has garnered comparisons to Pavement, Guided by Voices, Big Black or a more abrasive Sloan.
In early 2011, the band reunited with Lawson for the single Little Goodbye / Doom Beach. LGB / DB takes the streamlined ADD guitar blast of Recoder and pushes it into the red: gleaming acoustic guitars, laser beam riffs and a manic croon backed by churning bass and a drum machine blast. These clusters of "controlled chaos" are a preview of the band's upcoming debut LP.
Upcoming tour dates:
Sept. 21- Montreal, QC - O Patro Vys - 9pm - Pop Montreal
Sept. 22 - Montreal, QC - Divan Orange - 4pm - Pop Montreal via Passovah
Sept. 29 - Toronto, ON - Silver Dollar
Oct. 05 - Winnipeg, MB - Lo Pub
Oct. 06 - Saskatoon, SK - Walker's
Oct. 07 - Edmonton, AB - Wunderbar
Oct. 08 - Calgary, AB - Palomino
Oct. 13 - London, ON - Black Shire
Oct. 14 - Kitchener, ON - The Hive
Oct. 16 - Kingston, ON - The Artell
Oct. 21 - Halifax, NS - Gus's Pub - Halifax Pop Explosion
Oct. 22 - Saint John, NB - Teen Resource Center - All Ages!