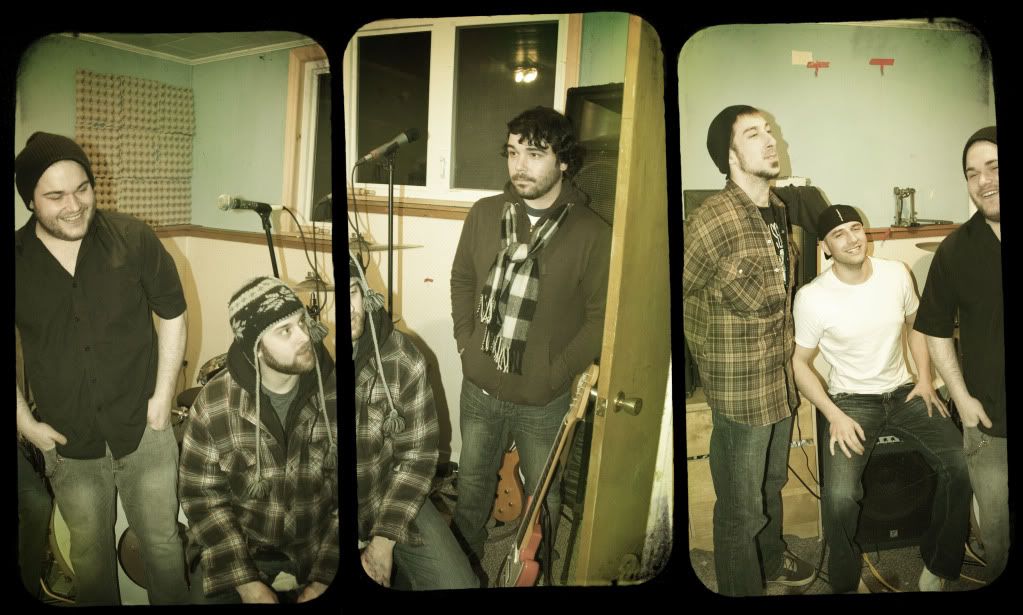 Yarmouth rock quintet Rain Over St. Ambrose offers a preview of their new album, Overton Window, on an upcoming East Coast tour. Dates are as follows:
Sept. 30 - St. Andrew's, NB - The Red Herring
Oct. 01 - Fredericton, NB - The Capital
Oct. 07 - Halifax, NS - The Seahorse Tavern
Oct. 08 - Charlottetown, PE - Hunter's Ale House
Oct. 14 - Sydney, NS - Governor's Pub
Oct. 15 - Inverness, NS - The Hoff
Oct. 27 - Moncton, NB - Plan B
Nov. 05 - Yarmouth, NS - Dooly's (NSMW Showcase)
Out of the foggy banks of Yarmouth, Nova Scotia, Rain Over St. Ambrose emerges with
Overton Window
(Acadian Embassy | November 01) – an album that combines powerful melodies with good old-fashioned rock n' roll fun, and highlights the band's knack for churning out pop-rock anthems.
Whether it's the catchy chorus of the EP's single, "Campfires," the captivating sing-alongs of "Chemtrails of Happiness," or the eerie synth-hook of the album's title track, Overton Window reverberates with the energy and excitement of a band poised to escape from their rural fringes into the heart of the city.
Recorded over a weekend at
Codapop Studios
in Halifax, NS, the band's sophomore album will be released in November to coincide with hometown showcase during
Nova Scotia Music Week
.
The inception of Rain Over St. Ambrose is a remarkable one. A week after Curtis LeBlanc told his son Cory he'd rather see him be the frontman in a band than stuck behind the drums for the rest of his life, he suffered a heart attack and died. The next day, Cory LeBlanc (once the drummer for
Jon McKiel, Ruby Jean
& The Thoughtful Bees, and others) packed up his kit and picked up his guitar.
Assembling a band with his brother, Curt, and some of Yarmouth's best up-and-coming musicians, Cory christened Rain Over St. Ambrose – a testament to the weather on the day of their father's funeral – and began writing songs.
The band released their first self-titled EP in February, 2011 as a free download via
Acadian Embassy
and garnered initial praise for its "crunchy guitars, honest lyrics and memorable hooks" (IndieMusicFilter), its "sing-along friendly choruses" (Herohill), and "classic rock patterns [reminiscent of] The Hold Steady" (Round Letters).
In April, Rain Over St. Ambrose were named the winners of
DevCom
– a development competition for new and up-coming bands in Halifax sponsored by
The Seahorse Tavern, SpinCount, Codapop Studios
and
Ballsy Cancer Society
– beating out 12 other bands for a coveted prize pack that included recording time, promotion, and marketing, among other things.
For more information on Rain Over St. Ambrose, visit
http://www.acadianembassy.com.