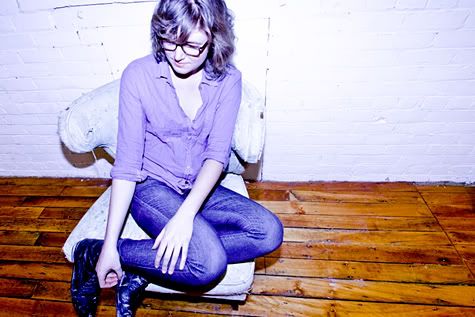 On the strength of her two EPs, It's Like That Here (2007) and Collage Light (2009), folk rock it-girl Charlotte Cornfield captured the ears of this country, garnered a ton of media attention, became a staple on CBC Radio, and has galvanized audiences at major festivals, including Hillside, North by Northeast, Mariposa Folk Festival, Pop Montreal, and In the Dead of Winter.

CHARLOTTE CORNFIELD - Arc Blues from Mitch Fillion (southernsouls.ca) on Vimeo.
After spending the better part of the last year splitting her time between the studio and the road, putting in grueling hours at both, Cornfield is ready to unleash her debut LP Two Horses on October 25th, 2011. Two Horses is a fleshed-out, conceptual tour de force. It is an incredible step forward for Cornfield, whose songs have already worked their way into the heads and hearts of fans from coast to coast. The album winds through a complicated romance, each of the 10 songs exploring its emotional complexity and approaching the story from different angles. Musically, there's an elegant juxtaposition of driving rock 'n' roll numbers and heartbreaking melodies. Single "All of the Pretty Mistakes" has Cornfield at her finest, ripping into infectious lyrics over a driving melody and rhythm. She leads off with the line, "I believe in staggering beauty, in lovesick glances, in the perfect song..."
Two Horses was produced by Ryan Granville Martin, drummer for Mia Sheard and Martin Tielli and a close friend and mentor of Cornfield's. Together, Cornfield and Granville Martin hunkered down for four months to work on the record, and recruited some of Toronto's finest musicians to lend their talents to the cause, including Thom Gill (Owen Pallett), John Dinsmore (NQ Arbuckle), Carmen Elle, Johnny Spence (Donlands & Mortimer) and about 10 others. As well as delivering powerful vocal and guitar performances on the album, Cornfield also played drums, piano and bass on several of the songs.
Though just shy of 23, Cornfield has led a busy on-the-road-off-the-road life since she was 18. After a summer that saw her whirling through Canada, appearing at such festivals as NXNE, Hillside, Skeleton Park and The Sunshine Music Festival, she's heading back out on the road this fall and winter in support of Two Horses, with feature appearances at Pop Montreal and the
Halifax Pop Explosion
and tour dates across the country. Tour dates below.
TOUR DATES
Sep 3 @ Sunshine Music Festival, POWELL RIVER
Sep 4 @ Sunshine Music Festival, POWELL RIVER
Sep 21 @ Ukrainian Federation, MONTREAL (**Pop Montreal w. Lindi Ortega and Philemon Chante)
Sep 21 @The Prism Tower, MONTREAL (**Pop Montreal Showcase)
Sep 24 @ The Notman House, MONTREAL (**Pop Montreal BBQ)
Oct 20 @ The Bus Stop Theatre, HALIFAX
(**Halifax Pop Explosion Audio Blood Showcase)
Oct 26 @ The Casbah, HAMILTON
Oct 27 @ Dakota Tavern, TORONTO (*CD Release Show)
Nov. 2 @ The Mansion, KINGSTON
Nov 1 @ The Spill, PETERBOROUGH
Nov 4 @ Sala Rossa, MONTREAL (*CD Release Show!)
Nov. 8 @ Bunkers, SYDNEY, NS
Nov. 10 @ Plan B, MONCTON, NB
Nov. 11 @ Capital Complex, FREDERICTON, NB
Nov. 12 @ Pepper's Pub, ST. JOHN, NB
Nov. 24th @ The Phog Loungs, WINDSOR
*More dates to be added here.
LINKS
http://charlottecornfield.com
http://www.facebook.com/pages/Charlotte-Cornfield/21878470967
http://twitter.com/cornfieldmusic
http://myspace.com/charlottecornfield