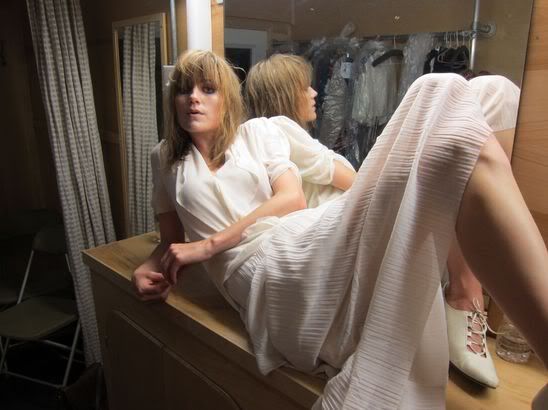 Lou Canon also confirms 'Indie In-Store Tour' and reveals stunning video for 'Heart Of'.
Toronto -- Quick-rising Toronto-based singer-songwriter
Lou Canon
sees her self-titled debut album released today on Hardwood Records. The ten-track Hayden-produced effort sees the multi-instrumentalist contribute nine self-penned originals and one stellar cover of The Cure's "Close to Me". Lou Canon will be touring the country in a unique Exclaim Magazine sponsored 'Indie In-Store Tour' next month (full list of date below). Also check out Lou Canon's amazing new video for album stand-out 'Heart Of' below.
Lou Canon Indie In-Store Tour
October 18 Winnipeg | Winnipeg Folk Festival Store @ 2:30
October 20 Vancouver | Zulu Records @ 7:00
October 22 Edmonton | Permanent Records @ 2:00
October 27 Halifax | Taz Records @ 2:00
October 29 St. John's | Fred's Records @ 2:00
November 1 Toronto | Soundscapes @ 7:00
November 3 London | Grooves @ 4:00
November 5 Ottawa | Compact Music (Downtown) @ 2:00
Lou Canon is a musician living in Toronto. She teaches for a living and sings for a loving. She once reserved her wild imagination and playfulness for the classroom. Her students were happy, but something was amiss.
Although she continued to teach, her day no longer ended with the bell. She would unravel her bun at the door and spend her nights three stories above street level, in a very special place called Skyscraper National Park. Alongside Canadian musician, Hayden, she created, laughed, lingered, swore, drank tea, drank wine and slowly built her debut album.
www.loucanon.com
www.myspace.com/loucanon