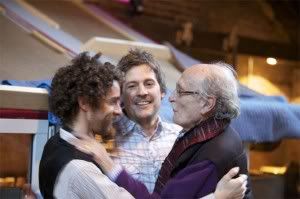 The Jerry Granelli Trio embarks on a tour across Canada this October in support of their acclaimed new album, Let Go (Plunge Records). Dates are as follows:
October 07 - Halifax, NS - Jerry Granelli Trio Residency @ 1313
October 08 - Halifax, NS - Jerry Granelli Trio Residency @ 1313
October 09 - Halifax, NS - Jerry Granelli Trio Residency @ 1313
October 12 - Ottawa, ON - National Arts Center - National Arts Centre
October 13 - Montreal, QC - l'Envers
October 14 - Lennoxville, QC - TBC
October 20 - Lethbridge, AB - TBC
October 21 - Calgary, AB - Beatniq
October 22 - Edmonton, AB - LB's Pub
October 23 - Canmore, AB - TBC
October 27 - Vancouver, BC - Ironworks
October 28 - Seattle, WA - Earshot Jazz Festival
October 28 - Seattle, WA - Earshot Jazz Festival
In January of 2011, Jerry Granelli called it. The material was ready. The recording could begin. After almost a year of tearing the music apart and pulling it back together; communications over long distances and intimate rehearsals; playing the pieces live and hidden away in Jerry's studio—the trio and the music were ready. This would be their debut recording. It was always about letting go. But the title came later. Everyone had to pack away any preconceptions and allow the power of the music and the trio, as a living-breathing unit, to guide the sessions.
Granelli worked with some of the best trios in the business; Vince Guaraldi, Denny Zeitland and Mose Allison, to name a few. Yes, he has led and directed small and large ensembles over the years but this is the first time that he has stepped up to lead his own trio.
Granelli looks at the concept of the trio and is amazed. Everything fits together perfectly. No one gets a free ride.
Granelli is a sonic shape shifter, his story is one that follows the evolution of the San Francisco Hard Bop jazz scene out to the edge of contemporary improvised music. Born in 1940 in San Francisco, the boy recognized his passion in 1948 when he spent a day with Gene Krupa. Hanging out during the 50s in San Francisco nightclubs like the Blackhawk, The Jazz Workshop and Jimbo's Bop City, gave him a direct connection to what was happening in New York City. Soaking in the sounds of Miles, Max Roach, Philly Joe Jones, Elvin Jones and Monk. His passion grew, eventually leading him to Dave Brubeck drummer Joe Morello. After two years as Morello's star pupil, Granelli became a highly sought-after session player, eventually playing, recording and touring with the Vince Guaraldi Trio. He provides the unmistakable steady swing beats for the classic Charlie Brown "Peanuts" theme song. In 1978, Jerry stepped up and began releasing recordings under his own name, Let Go will be his sixteenth. It follows three records with the dual guitar sound of V16 and his first solo recording, 1313 (2010).
Jazz Times magazine calls Granelli "one of those uncategorizable veteran percussionists who's done it all." A Canadian citizen since 1999, Granelli burns with an intensity fuelled by a passion for "the pursuit of the spirit of spontaneity which drives the player." A veteran of the San Francisco jazz scene, Granelli's recent flourish of recordings has documented remarkable collaborations between the generations.
Jerry has known Danny Oore and Simon Fisk for years. A little over a year ago when he began to think about the trio form for his next project it was their artistry and their sound that seemed to fit what he heard. Jerry had been toying with how to create using the structure of the trio but without it sounding like a trio. The two musicians bring something new to the trio palate, Simon: bass and cello, Danny: tenor, soprano and baritone saxophone. The result is effortless and multi layered. There is also one anomaly: Jerry met Mary Jane Lamond a few years ago. Her use of the Gaelic language kept haunting him. In some small way he knew she had to play a part in his new recording. She lent her voice to two tracks on Let Go.
This recording captures the beginning of a new direction, a new sound and a new partnership in music. Live, it will grow and move forward. The trio are following the music to where it leads.